Albums of 2017 (#7): Run the Jewels – RTJ3
Run the Jewels soundtrack the fraught, dystopian present with a third album of futuristic and ferocious hip-hop
Jaime Meline and Michael Render – better known as El-P and Killer Mike of Run the Jewels – have always been hip-hop iconoclasts, and in their time as a duo they've managed to forge an interesting path through the cultural landscape. They tackle the issues of the day in aggressive and incisive verse; they brag about finding new ways to help their enemies go fuck themselves. They soundtrack movie franchises and stump for politicians; they present a radio show in which they imagine finding squirrels that look a bit like them. At a time when the temptation is to dive headlong into activism or retreat into fanciful humour, RTJ3 points out that a bit of both is the way forward.
When we caught up with the duo in Barcelona in the summer, Meline told us that the strength of Run the Jewels lies in the duo's ability to be both jesters and truth-tellers at once. Usually, he said, "you're just the party guy that no-one wants to hear from because you took too long to say anything in the first place, or you're the guy who no-one wants to hear that you like sex or you like drugs because you've never smiled."
It's a fair point: if 2017 has proven one thing, it's that simply being correct isn't going to get you anywhere – you need a bit of personality to make an impact. And personality pours through in spades on RTJ3, with the duo throwing out their now-customary mix of boasts, slams and constant reinforcement of just how great they both are. 'Me and Mike, we just think alike / We can't stop high-fiving', says El-P on Stay Gold, and the pair dovetail expertly throughout.
That said, on this album the political and social commentary is to the fore – police brutality, gentrification, terminal illness and urban warfare all get an airing over its 14 tracks, held together and buoyed by El-P's futuristic production. Meline has always had an ear for a dystopian soundscape, but RTJ3's scale is truly impressive.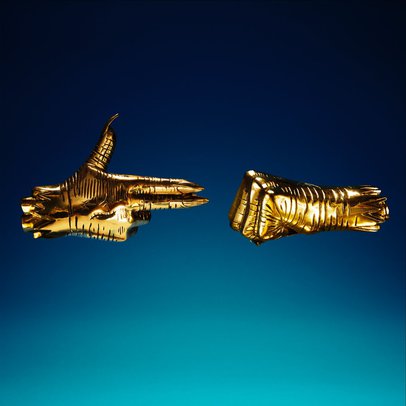 This is a record of enormous bass, snapping snares and robotic crunch everywhere, while vocal samples and ominous chirps lurk in the shadows of the mix. There are bangers here, make no mistake; Panther Like a Panther and Legend Has It are among the hypest tracks the duo have released. But the overall vibe feels pretty appropriate for a year in which the promised future of meritocracy and free global communication has been replaced by a reality in which complete fucking idiots are in charge while the Russian government covers everyone in a thin film of propaganda.
RTJ3 boasts a number of great guest spots, with Danny Brown, Kamasi Washington and Zack de la Rocha lending their weight to proceedings. When we catch the duo on a cold night in Glasgow, playing their final tour date of 2017, Brown bursts out from the back in his pants (having thrown his coat, shoes, belt and watch into the crowd during his support set) to drop his verse from Hey Kids. El-P is absolutely pissing himself at the sight, but within two songs we're pulled into the deliberate and emotional world of album standout Thursday in the Danger Room with the very same El-P at the helm.
Mixing the serious and the sardonic, the political and the puerile can be a tricky ask. But on their third album, Run the Jewels get the recipe pretty much spot-on.