Albums of 2017 (#4): Perfume Genius – No Shape
Mike Hadreas comes to terms with his own contentment on No Shape, his fourth album as Perfume Genius
Mike Hadreas doesn't hold back, and under his musical moniker Perfume Genius, he's given us four albums of heart-wrenchingly honest, pure and powerful records; his latest, No Shape being his grandest yet.
Opening track Otherside begins like a Perfume Genius track of old: all vulnerable, isolated vocals and minor-key piano notes, before shattering into glistening percussion and firmly establishing this as an entirely new kind of Perfume Genius record. Although he may not shake off all that lingering negativity, and it's likely he never will, there is a much greater sense of hope pushing through all the sadness on No Shape.
Lead single Slip Away sees Hadreas instructing himself, 'Don't hold back, I want to break free,' and urging himself to battle his inner demons more than ever before. No Shape deals with much more positive themes than we're used to hearing from Hadreas, who often documents dark and troubling memories from his past in his music. He appears to take a new stance on happiness now though, attempting to accept it rather than push it away.
"I kind of realised that my brain and my circumstances didn't really match up sometimes; that I wasn't as kind to myself as I could be, day to day, or I wasn't as present or available in my relationships when really there's no reason not to be more grateful," Hadreas told us earlier this year. "So, it's sort of a way for me to be a little more warm about things when sometimes the noise in my head doesn't really let me get there."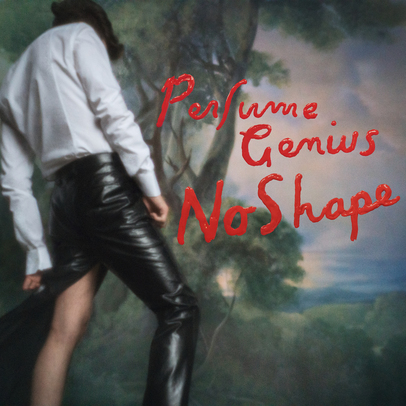 Hadreas' internal battle with his physical self – he suffers from Crohn's disease and has openly spoken about his gender fluidity – has often been just as important for him to talk about in his music as his battle with his mental self, and that continues here. Wreath is a perfect example of the dissonance Hadreas has referred to when talking about the album: lyrically, an emotional documentation of Hadreas' uncomfortable relationship with his body, and his desire to be free of it, but melodically an uplifting, synth-shimmering beauty. 'I wanna hover with no shape / I wanna feel the days go by,' he sings with vulnerable desperation, over 80s-tinged synths that wouldn't sound out of place in a John Hughes film.
Hadreas enlisted Grammy-nominated producer Blake Mills to assist on the album. Mills' credentials include previous production work for Fiona Apple, Alabama Shakes and John Legend, so he's someone who knows his way around massive pop melodies, and the grandeur of his production brings that extra bit of electricity to No Shape. "He wrote me really detailed, long pages of notes – so much of it was exactly what I was thinking and then some of it was completely surprising but in a way that totally fit the spirit of the songs," says Hadreas.
The album's closing track is dedicated to Hadreas' long-time partner Alan (Wyffels). The pair have been together eight years and Wyffels, a classically trained musician, has collaborated on every Perfume Genius album bar Learning. 'Did you notice / We sleep through the night / Did you notice, babe / Everything is alright?' sings Hadreas, the sheer simplicity of his words beautifully highlighting the feeling of comfort, and ultimately happiness. "I guess I'm either really negative or really positive, I don't really have a middle," says Hadreas.
If that's the case, then No Shape displays a more positive side to Hadreas and although there are still those darker threads beneath the surface, they are no longer the centrepiece they once were.