Albums of 2014 (#1): Warpaint – Warpaint (Rough Trade)
Warpaint drummer Stella Mozgawa on re-thinking and re-imagining Warpaint, the band's most effusively eclectic record to date
"It might sound eclectic to some people, this record, but other people don't give a fuck," laughs Warpaint's drummer, Stella Mozgawa. "They're just like, 'Oh, what are those four witches on about this time?'"
Warpaint are one of those bands that have a strange sonic signature, a definite something that's entirely theirs. This kind of suggestion is often flung at vaguely avant-garde bands, but with Warpaint there's an aura or an atmosphere which, although hard to precisely pin-point, is always present. This year, Stella and bandmates Emily Kokal, Jenny-Lee Lindberg, and Theresa Wayman released an album that's a shapeshifter; transportative, smoky, seductive and a tiny bit intimidating, all in one. If this sounds hyperbolic, it isn't... Stella might self-deprecatingly describe the band as a bunch of "witches," but the self-titled Warpaint is total magic.
The Skinny has a long love affair with the band; this magazine was among the first in the UK to cover the LA four-piece when they hit the ground running with 2007's Exquisite Corpse EP, and they even graced the cover of our 100th issue back in January. So, it's not remotely surprising that Warpaint, released way back in January, should feature so highly in our best-of-the-year rankings. It's an album that just gets even better with time, making it very much a pleasure to invite Stella's commentary on how Warpaint – and the band – has grown over the last eleven months.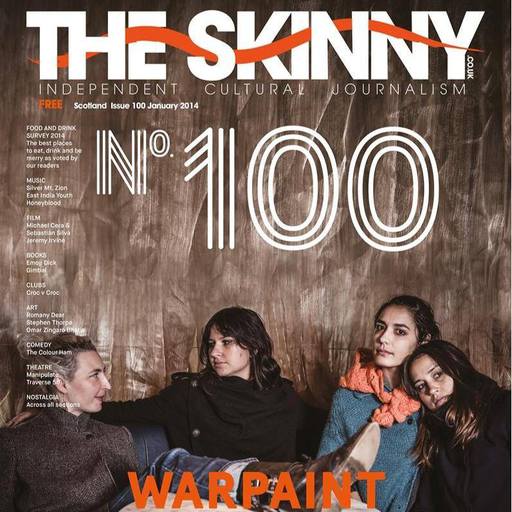 ---
"This album kind of felt like – not wiping the slate clean, by any means – but it certainly feels like an affirmation" – Stella Mozgawa
---
Stella's opening reflection is that, although it's formally the second album from Warpaint, it's their first self-titled release for good reason: "It was the first record that we all made together," she emphasises. "This incarnation of Warpaint… it seems to be the legitimate version." As Stella herself is the most recent addition to the band, joining in 2009, she jokingly worries that she sounds like like a "new bride saying, 'I'm the one'" – but, as she explains, "this album kind of felt like – not wiping the slate clean, by any means – but it certainly feels like an affirmation, solidifying that this is what everybody feels like." Hesitant to talk as a solo spokesperson, she explains that the four have a strictly "democratic" approach to band life, having developed a powerful "barometer for bullshit" that's in place to nip any wayward behaviour in the bud.
Cautious of potentially alerting that barometer for nonsense, I suggest to Stella that this record might be the most Warpaint-like yet. It's as if all the qualities we'd expect from a Warpaint release have been distilled: there's a refinement and concentration at work, taking those complex, rhythmic journeys and compelling, spectral harmonies and making them more Warpaint-sounding than ever before. Luckily, she agrees. "Yes. I like that, a lot! I mean, ultimately, in our own interpretation of that, that's exactly what we're going for. We've made an album that we're all like, yes." She pauses. "All four of us put absolutely every little bit of our soul into this."
On surface value the record feels softly cohesive – swelling from Intro into Keep It Healthy and then conducting a rich, intricate journey that's completely and utterly immersive. But now, after nearly a year's worth of re-listening, the album sounds a whole lot more disparate: the eclecticism and character in the individual tracks floats to the surface, sounding at times as if each one belongs to a wholly different body of work. Using as examples the grungy CC, the delicate, fluttering rhythm of Go In, Disco//Very's eerie, grooved take on a dance track, and the balladry of closer Son, Stella explains: "We just didn't want to leave certain ways of being, unrepresented. Especially if [the album] was going to be a real reflection of where we're at, creatively. I think if people invest themselves in the album, it can sound like it's coming from so many different directions: but that's just the truth. That's the truth of the matter, in terms of our band, and how our band sounds and functions. Those four tracks especially, I feel, live in a different world – in a good way."
For Warpaint, touring an album proves vital for keeping those "different directions" open. Stella describes their live performances as something nearer to a jam session, saying that it's about "finding ways for ourselves to re-structure, to re-imagine those songs. It keeps it exciting for us… to do things on the road, to take that risk, rather than playing to a script." The band have seen certain tracks take on a new personality over time, too – apparently CC, amongst others, was "a little late to the party," says Stella, "there's been lots of little surprises."
An unbelievable amount of care (or "babying," as Stella puts it) went into Warpaint. The band wrote it over several months of seclusion in the mystical Joshua Tree National Park and collaborated with world-renowned producer Flood, but it's strikingly clear that the band themselves had huge personal expectations of this record – let alone the expectations of the fans and critics clamouring for a release in the four years it's been since debut album The Fool. Exhaling, she says, "this album, for me, is really close to the end of the [perfectionist] journey. But! It's very possible that every artist has that kind of... finite goal, and you're never going to reach it? That's the point of being prolific and continuing to make music because... in the back of your mind, you know you're never going to be totally satisfied?" So, essentially, Warpaint is a crystalised encapsulation of the band at a precise point in time – but for a band this driven, that mythical 'perfect' album, that kind of artistic 'end point' will forever be elusive.
With this in mind, how does the future look to Warpaint? For one, they've already started writing: a new song, No Way Out, has already been woven into their live sets, and the band are extremely eager to be "a little quicker" with future releases. Drawing a comparison with the way electronic artists release single tracks or EPs without feeling pressured towards a full album, Stella enthuses, "I think that's the future of the band, for sure. We're just ready to re-imagine that format. It doesn't have to be so homogenous all the time. But... I don't want to spoil too much." And, even in the week since we spoke, an announcement of a secretive collaboration between Warpaint and the equally ethereal Daughter has surfaced online: it looks like this "incarnation" of Warpaint has barely even got started.
Stella summarises: "I think, ultimately, if I could make a conclusion about the record, it would be that it's the next step. It seems like we're just about to fully realise what... what... what we're capable of, and if we're capable of all the things that we want to do. Our visions are lofty, we take everything quite seriously; hopefully we'll be able to live up to our own expectations of ourselves, eventually? I think we all, as a group, just feel insanely grateful. Sometimes [the response to the album] just feels… it feels unwarranted, you know? But at the same time it's extremely humbling, and gives us the strength to do something that we hope will be even better. And to continue to do so."