The SAY Award 2016: For Whom the Bell Tolls
The fifth annual SAY Award may have left Glasgow for a new home in Paisley, but this year's show was as fun and eclectic as ever. We survey the night and speak to its victor
Paisley on a wet Wednesday night doesn't sound the most glamorous of settings for what's supposed to be the most prestigious event in the Scottish music industry calendar. But anyone arriving with negative preconceptions of the Renfrewshire town is quickly put right when they see the grandeur of tonight's venue.
There were a few grumbles when the SAY Award announced it was flitting from Glasgow for two years, but memories of its previous home at the sticky old ABC are soon forgotten. Paisley Town Hall is the kind of 19th century neo-classical pile that stops American tourists in their tracks. It looks more like a duke's pied-à-terre than a municipal building originally paid for by a local mill owner.
A change of scene for the SAY Award
The organisers of the SAY Award have moved the whole shebang to Paisley to help support the town's bid to be named UK City of Culture in 2021, an admirable gesture that more than makes up for the inconvenience of a few punters having to get a train out to Gilmour Street station. This is a town with a proud musical heritage, after all. From Mr Baker Street himself, Gerry Rafferty, to modern pop maestro Paolo Nutini, Buddies are known for being able to carry a tune. Judging by the success of tonight's big do, they can also arrange a hell of a show.

But the more things change at music awards nights, the more they stay the same. The ever-dependable Vic Galloway and Janice Forsyth are once again overseeing proceedings, and both are dressed to kill. The sartorial standards across the room have improved greatly on last year's event. Is there something about going out in Sauchiehall Street that makes people instinctively dress like a recently sacked bass player on the verge of eviction? Maybe we can thank tonight's venue for this sudden surge of smartness. "Let's hear it for the town hall!" Forsyth implores as she takes to the stage, which is quite possibly the first time the building has enjoyed a shout out in its 134-year history.

The format of the SAY Award has proved one of its enduring strengths, with a public vote deciding one of the 10 shortlisted albums. It's a trick that other, older music awards have since copied. "More proof that Scotland can show the rest of the UK how things should be done," deadpans Forsyth, which won't be the only time that last week's referendum horror show is mentioned.
Proving you can trust the great unwashed to get things right on occasion, the winner of this year's public vote was FFS – everyone's favourite art-rock supergroup. Only the FF part are here in person, while the S – that's Sparks – have sent a video message to offer thanks for their nomination. The Mael brothers apologising "for not being in Paisley tonight" is one of the more surreal moments of the evening, and one that fellow '70s pop star Rafferty would no doubt have found highly amusing.
Tributes to Carey Lander and Stewart Cruickshank
Proceedings kick-off with a short set from last year's winner, Kathryn Joseph. That now familiar voice and piano combination reminds everyone how great she is, and there are a few whispers that maybe she should she just keep the award for a second year. There then follows a heartfelt tribute from Galloway and Forsyth to two well-kent faces of the Scottish music scene who couldn't be here tonight.
Carey Lander, keyboard player with cinematic pop group Camera Obscura, died in October last year aged just 33 from osteosarcoma. Along with her close friend and bandmate Traceyanne Campbell, she helped make the group one of the most distinctive and internationally successful Scottish groups in recent years. 

While less well-known, the late Stewart Cruickshank played a huge role in developing and generally encouraging musicians in his role as a producer for BBC Radio Scotland. "We still can't believe he's gone," says a visibly emotional Forsyth, a long-time friend and colleague.

It wouldn't be the SAY Award if there wasn't the public handover of eye-catching artworks to bemused musicians. Last year, each of the 10 shortlisted bands received a handmade quilt. This time, they are presented with a ceramic bell – individually designed by Paisley-based artist Karen Hanvidge.
Thankfully, they come stored in sturdy wooden boxes – otherwise the heavy bass of Bossy Love's set would likely reduce them to dust. Fronted by Amandah Wilkinson, a pop star in the making if ever there was one, their set is one of the highlights of the night. "They are going all the way!" a suitably impressed Galloway declares shortly after. And he doesn't just mean to the after party at the UWS union across the road.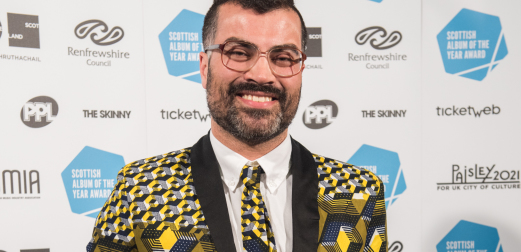 [Brian D'Souza, aka Auntie Flo]
A time to speak up
As each artist troops up on stage to claim their bell, they are encouraged to say a few words, with most restricting themselves to heartfelt thanks. But Auntie Flo – aka Glasgow-based producer Brian D'Souza – shows no such bashfulness. His nominated album, Theory of Flo, is a musical odyssey incorporating styles from West Africa and South America.
Shy and retiring is not his style, as his fetching yellow-and-black coat confirms. "My music is about breaking down barriers and the benefits of working together," he says, to huge cheers from the room. They know where he's going. "The kinds of things that have been under threat this past week. Music is the best weapon we have!" He's rightly rewarded with the biggest roar of the night.
And the winner is...
But while there's bells for all, only one of the 10 shortlisted acts can claim the top prize; a cheque for a cool £20,000. Galloway and Forsyth brandish the winner's envelope with intent, lingering for a few seconds to build up anticipation. "Anna Meredith!" they suddenly announce in unison, and the stunned composer from Edinburgh walks on stage, hands covering her mouth in disbelief.
<>Her debut solo album, Varmints, was tipped as an early favourite for the title and it duly delivered. An incredible blend of contemporary classical and electronica, it really does sound like nothing else, and is more than a worthy winner. "It's a real honour and a humbling privilege," she tells The Skinny minutes after the announcement. "It's been such a lovely evening with great music that I was deliberately not thinking about who would win," insisting she was unaware of how many people were tipping her success.
Tonight is the culmination of years of hard work for Meredith, who was previously best known as a classical composer. "I had to write the album in stages around other work. It wasn't paid, obviously, so I had to fit it around commissions. It's been years in the making!" A true labour of love. Tonight, the bell has tolled for Varmints.