Public Enemy and Kate Tempest to play Doune the Rabbit Hole
Public Enemy (Radio), Kate Tempest, John Cale, Dan Deacon and Nadia Rose join the already announced Belle & Sebastian at the 2020 edition of the Stirlingshire festival
At the end of last year Doune the Rabbit Hole had us excitedly looking forward to a summer's weekend away in the lush surrounds of the Cardross Estate, with an initial line-up that included Belle & Sebastian, Pussy Riot, Dry Cleaning and Martha Reeves and the Vandellas.
While the final line-up announcement brings with it a bout of sadness (due to a wider contractual issue beyond the festival's control, Reeves and co will no longer have us Dancing in the Streets of Stirlingshire), it seems there'll be still be a whole heap of dancing taking place across the July weekend with the likes of Dan Deacon, Snapped Ankles and Nadia Rose all joining the bill.
Despite the recent departure of the big clock-donning Flavor Flav, joining Belle & Sebastian in one of the festival's top spots are the inimitable Public Enemy (Radio), who will headline the Friday night, while wordsmith extraordinaire and Mercury Prize nominated artist Kate Tempest will have you on the tips of your toes in the Sunday night slot.
Founding member of the Velvet Underground John Cale, legendary punks the Buzzcocks and actor, comedian and musician Bill Bailey have also been announced, with a strong Scottish contingent also in tow for Doune 2020. Sacred Paws, The Pastels, Honeyblood, Free Love, Stanley Odd, BIS, Rachel Sermanni, The Vegan Leather, Swim School and Tide Lines join previously announced Scots Peat & Diesel, Wet Look, The Bluebells and Peatbog Faeries.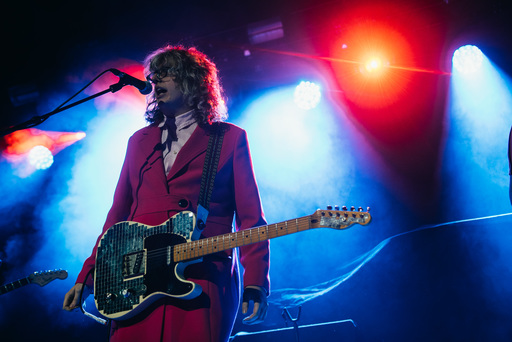 Image: The Vegan Leather by Ryan Johnston
Douniversity, environmentally concious and family friendly
It's not all about the music at Doune either; the Douniversity returns after the success of its first year in 2019. Of this year's Douniversity line-up, festival director Jamie Murray says: "The programme is progressive and in line with our environmentally conscious festival ethos, we'll be 100% single-use-plastic free on site this year."
Curated by CommonWeal, expect talks and discussion on social change, the climate crisis, Scottish culture, activism, feminism and LGBTQ+ rights from a whole host of politicians, academics, activists and journalists. 
And there's something for the whole family when it comes to Doune too as they welcome back the Kidding Around Collective to curate the family field which will include a free play area, arts and crafts, and a kite making workshop. Speaking of workshops, Doune will also feature a singing workshop from the immensely talented Zoë Bestel, a DJ workshop from the Fierce Collective, and an Aardman Animations workshop. (Yup, the team behind Wallace & Gromit!!!)
As festival director Jamie Murray says: "Our aim has been to create the most ambitious and progressive festival line-up in Scotland." I think we can all agree they've done that in spades. Roll on July!
Doune the Rabbit Hole 2020: The full line-up
Friday 17 July
Public Enemy (Radio), Pussy Riot, The Skints, Dan Deacon, McClusky, Peaness, Dry Cleaning, Vlure, The Joy Hotel, Scarlett Randle, Swim School, Bohemian Monk Museum, The Banjo Lounge 4, Town of Cats, Esperanza, The Black Denims, The Twistettes, Check Masses, The Hoojamamas, The Moods, The Lutras, The Rain Experiment, Mad Ferret, Awkward Family Portraits, Rachel Sermanni, Lizabett Russo, Burd Ellen, Les Johnson & Me, Fairweather Friends

Saturday 18 July
Belle & Sebastian, Buzzcocks, John Cale, Bill Bailey, Tide Lines, BC Camplight, Elephant Sessions, Snapped Ankles, We Are Not Devo, Free Love, Wet Look, BIS, Walk n Skank Takeover, Cut Capers, Mickey 9s, Have Mercy Las Vegas, The Vegan Leather, More From Jim, Atom Eyes, Fauves, Bigg Tag & Spee Six Nine, The Best Bad Influence, The Well Happy Band, Feckno Ceilidh, Mad Ferret, The Mary Wallopers, Anna Mieke, Quick, Jack Callum Richardson, Zoë Bestel, Fat Mantra, Scarlett Randle, Mango Lassie, Me Lost Me, Gelvis Paisley
Sunday 19 July
Kate Tempest, Peat & Diesel, Nadia Rose, Girl Ray, The Bluebells, Peatbog Faeries, The Pastels, Sacred Paws, Honeyblood, Far Caspian, Tights, Kubitaru, Morriston Orpheus Choir, Stanley Odd, James Brown Is Annie, The Strange Blue Dreams, Sprog Rock, Quiche, Red Hot Rhythm Makers, Feet of Clay, Flew the Arrow, Cara Rose, Kimona, Memphis Gerald, Patrick Freeman, Bobby Kakouris, Bryn Jones, James Michael Rodgers, John Rush, Emi V
---
Doune the Rabbit Hole takes place at the Cardross Estate, Port of Mentieth, Stirlingshire, 17-19 Jul; tickets available here: dounetherabbithole.co.uk