Mogwai win the 2021 SAY Award
It's sixth time lucky for Glasgow post-rock outfit Mogwai, who win The Say Award for their glorious tenth studio album, As the Love Continues
Post-rock behemoths Mogwai have won the £20,000 cash prize and title of Scottish Album of the Year for their tenth studio album, As the Love Continues. With previous nominations for three studio albums – Hardcore Will Never Die, But You Will, Rave Tapes and Every Country's Sun – as well as for two soundtracks – Les Revenants and Atomic – it's sixth time lucky for the Glasgow band. 
Having announced the new album alongside the dreamy and lush lead single Dry Fantasy towards the end of last year, As the Love Continues arrived on 19 February to critical acclaim. Causing quite the stir among the band's fanbase, celebrities like Elijah Wood even tweeted his support for the band as the chance of them achieving the top spot in the UK chart suddenly became possible; a week after its release the band achieved that goal, scoring their first UK number one in their 25-year career.
It was unsurprising, then, that As the Love Continues went on to make the shortlist for the 2021 Mercury Prize alongside artists like Laura Mvula, Arlo Parks and Black Country, New Road. For a band who are a much-loved mainstay of the Scottish scene, it was exhilarating to see them get that wider appreciation in the UK music industry; we couldn't feasibly have imagined any other artist picking up The SAY Award this year than Mogwai.
Collecting the prize at the ceremony at Edinburgh's Usher Hall last night, Mogwai guitarist Stuart Braithwaite said, "I really was not expecting this, I have not thought of anything to say other than thank you and I wish I'd got steaming! This has been a really mental year for the band and this is just another thing we never thought would happen. I want to thank everyone who has bought and played the album, I'd like to dedicate this to Mick our booking agent who passed away last week. I'd like to thank everyone,  the SMIA and you all for being here. This is nuts!"
"As the Love Continues is a pinnacle in a recording career filled with high points," adds Alan Morrison, Head of Music at Creative Scotland. "Mogwai have set the world standard for instrumental post-rock, making powerfully emotional music that twists and turns through shifting dynamics. Coming a few months after they landed their first number one album, this SAY Award win is well deserved."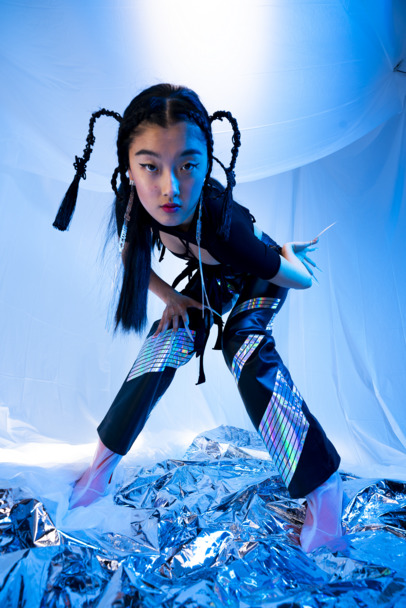 Image: LVRA by @tatyanajintorutherston
Two new awards
As well as the main award, two brand new awards were also launched this year, the Modern Scottish Classic Award and the Sound of Young Scotland. While Selkirk's Frightened Rabbit were already previously announced as winners of the former for their seminal record, The Midnight Organ Fight, Rachel Lu, aka LVRA (pronounced Loo-rah), was tonight crowned the Sound of Young Scotland, beating Alex Amor, Cameron Roxburgh, kitti and Jen Mac to take the title. With her latest EP, TWO, exploring pop across a mix of genres, we can't wait to hear what LVRA does next as she continues to push the boundaries of pop in Scotland.
"Using East-Asian, R'n'B and electronic music influences, LVRA's music offers a refreshing and punchy alternative pop sound," says Morag Macdonald, Youth Music Initiative Manager at Creative Scotland. "Congratulations to one of our stars of tomorrow – and to all of the nominees of the first Sound of Young Scotland Award who showed us how exciting the future of Scotland's music scene will be."
---
The 2021 SAY Award ceremony took place on Sat 23 Oct at Usher Hall, Edinburgh