Kelburn Garden Party: Pyramid Stage 2023 revealed
We're excited to share the full lineup of our Pyramid Stage curation for this year's Kelburn Garden Party, featuring Sacred Paws, comfort and AiiTee in the top spots
If you've been paying attention, you'll already be well aware that we're back curating The Pyramid Stage at the iconic Kelburn Garden Party this summer. Taking place from 30 June to 3 July, we announced a lot of our lineup alongside the festival's first wave earlier this year, but since then we've completed the lineup, and are finally able to share it with you in full.
On Friday night, we have the honest and eloquent wit of Bee Asha kicking off proceedings for us, playing cuts from her 2021 record From Girl to Men; no stranger to Kelburn, perhaps you've caught her there before performing with her band The Honey Farm. You can also catch hip-hop harpist Queen of Harps, a finalist for this year's BBC Introducing Scottish Acts of the Year accolade after we dubbed her one to watch at the start of the year. Following on from his nomination as the 2022 Sound of Young Scotland at The SAY Award, rapper Psweatpants also joins us for the opening night. If you were with us last year, you may well remember his guest turn with fellow rapper Nova. And headlining night one, be sure to come check out the incredibly talented AiiTee. Nominated twice now in consecutive years for The SAY Award, we can't wait to welcome AiiTee's authentic R'n'B sound to Kelburn.
After playing our 200th issue party back in December, we couldn't not invite Djana Gabrielle to open our stage on Saturday. Now part of the award-winning songwriting collective Hen Hoose, Djana's sound is rooted in folk and her voice is sure to sooth even the mightiest of hangovers from going too hard on the first night. The country-pop stylings of Hailey Beavis will surely offer the same healing vibes later in the day, before Glasgow's number one Game Boy duo King Wine bring the mid-afternoon party with sunshine-ready songs like Sad Dance Party, Hot Broadcaster and I Ride My Bike In the Summer. 
As the day goes on, the summer vibes keep coming as Sean Focus will bring his unique brand of dancehall to Kelburn. We also have a trio of popstars in the making set to play with half-girl, half-android singer-songwriter KLEO, and two more Hen Hoose affiliates – musicians and producers SHEARS and AMUNDA. You might remember the latter from headlining our stage in 2019 as part of Bossy Love. And headlining our Saturday this year are sibling duo comfort, who are making music that honestly sounds like nothing else being made right now. Their forthcoming album, What's Bad Enough?, is due on FatCat Records next month, tackling head first everything from capitalism and grind culture, to singer Natalie's own lived experience as a trans woman. Over bubbling glitchy electronics, crunching synths and metallic drums, comfort are exhilarating and their live show is not to be missed.
Opening the stage on Sunday, rising folk and country-tinged singer-songwriter Alice Faye will bring her gorgeous storytelling to life in the early afternoon light. "Purple poetry-psych collective" Acolyte are no strangers to Kelburn; fronted by poet and singer-songwriter Iona Lee, they'll bring their witchy brand of spoken word music. Later, Glasgow "three-piece suite" BIN JUICE bring their thrashy and oh-so hungry indie-pop to Kelburn (see song titles: Hungry for Toes, Chippy Tea and Cookie Coma for proof). NANI is our Sunday sunshine hero, bringing their laidback hazy pop vibes to the Pyramid, before things once again ramp up.
As day turns to night, we're delighted to have two Last Night From Glasgow acts playing the Sunday evening; cold wave duo Casual Worker and pop-punk numpties Slime City, who were meant to play last year but sadly had to cancel last minute due to, well, you can probably guess what. We're also dead chuffed to be welcoming Glasgow's answer to Sleaford Mods, Doss, to our stage this year – after hearing his single The Mullets Are Moving In earlier this year, we knew we had to get him for our stage. In a feature that followed the single's release, Doss told us they always give their live show 110 percent, so don't sleep on this one.
Finally, we are beyond excited to be welcoming the mighty Sacred Paws to Kelburn Garden Party this year; former winners of The SAY Award in 2017 for their album Strike a Match, the music that Ray Aggs and Eilidh Rogers make together is nothing short of joy-filled and life-affirming and will be the perfect way to close our stage in 2023.
So that's the lineup. We've everything from pop and R'n'B, to hip-hop and folk, to post-punk and afrobeat, to electro and dancehall and everything in between. It's going to be a rare old time and you won't want to miss it. Before then, here's a playlist to help get you in the mood.
The full Kelburn Garden Party x The Skinny Pyramid Stage 2023 lineup
Friday 30 June
AiiTee, Psweatpants, Queen of Harps, Bee Asha
Saturday 1 July
comfort, AMUNDA, SHEARS, Sean Focus, KLEO, King Wine, Hailey Beavis, Djana Gabrielle
Sunday 2 July
Sacred Paws, Doss, Slime City, Casual Worker, NANI, BIN JUICE, Acolyte, Alice Faye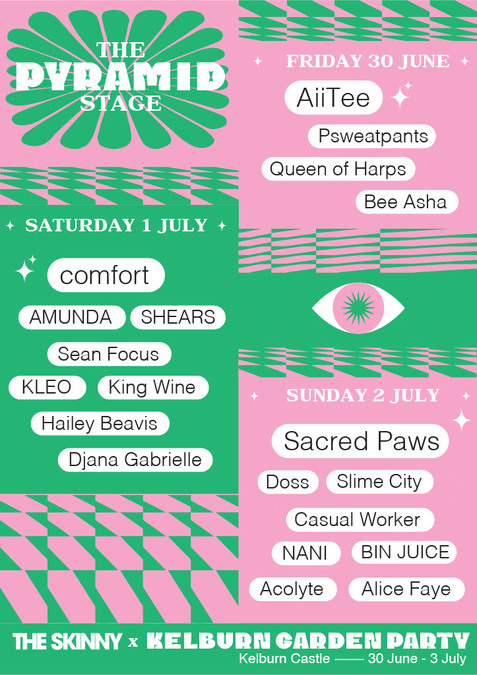 ---
Kelburn Garden Party takes place at Kelburn Castle, nr Largs, 30 Jun-3 Jul
Find the full lineup and get your tickets at kelburngardenparty.com