Edinburgh's Hogmanay: a "love-letter" to Europe
Edinburgh's Hogmanay full three-day festival line-up is revealed featuring the Torchlight Procession, Franz Ferdinand and love letters to Europe with Message from the Skies
Edinburgh takes Hogmanay seriously. In the Scottish capital seeing in the New Year is a three-day affair, and this year's full line-up has just been announced this morning. And for this Hogmanay, the last New Year's celebration before Brexit, the city will also celebrate Scotland's place within Europe.
"Edinburgh's Hogmanay is all about inviting the world to come on in and celebrate the end of one year and the start of a new and as we move from 2018 to 2019, there's no better time to celebrate Scotland's cultural ties with Europe," says Charlie Wood and Ed Bartlam, directors of Edinburgh's Hogmanay. With this in mind, performers from Spain, France and Germany are among the line-up, along with plenty of local talent.
30 December
The three-day festival opens on 30 December 2018 with the traditional Torchlight Procession which sees a river of light weave its way through the Old Town, down the Royal Mile, around Holyrood Palace and the Scottish Parliament before culminating at Holyrood Park. The procession will feature 14 giant wicker sculptures designed by young artists from all over the country that represent their various regions.
There's also the Symphonic Ibiza which fuses a live 15-piece orchestra with renowned club DJ Andy Joyce (Cream, Eden, Ministry of Sound, Creamfields) to create a concert of club classics under the dome of McEwan Hall.
New Year's Eve
The centrepiece to the city's Hogmanay festivities is the famous Street Party on New Year's Eve itself. The Concert in the Gardens at the foot of Castle Rock is the party's focal point. With Franz Ferdinand headlining this year expect a highly danceable and chantable performance to get you set for 2019. Alex Kapranos and co are joined by a pair of stellar supporting acts: eclectic Brighton band Metronomy and Glasgow dance-pop duo Free Love (fka Happy Meals).
Kicking off at 7.30pm, the Street Party sees three stages providing music throughout the night. On the Waverley Stage you'll find Gerry Cinnamon alongside Vistas and Snap! – the German dance group responsible for dancefloor bangers The Power and Rhythm is a Dancer.
On South St David's Street you'll find indie folk foursome Elephant Sessions, Edinburgh band Miracle Glass Company and Meute, a Hamburg-based outfit known for their live drum and brass arrangements of well-known techno and house numbers, as well as some incredible original numbers you can't but help dance to. Meanwhile, headlining the DJ stage on Castle Street is Judge Jules; making his Edinburgh Hogmanay debut, he'll be taking the audiences up to the midnight moment. Kicking off the DJ stage is Trendy Wendy and the Mac Twins will keep things going past midnight.
In addition you'll find a Silent Disco, a troupe of French performance artists (Compagnie Transe Express), aerial acrobatics (All or Nothing Aerial Dance Theatre), a mass singalong (lead by Got Soul! Choir) and some fire theatre portraying Celtic myths and folklore (PyroCeltica).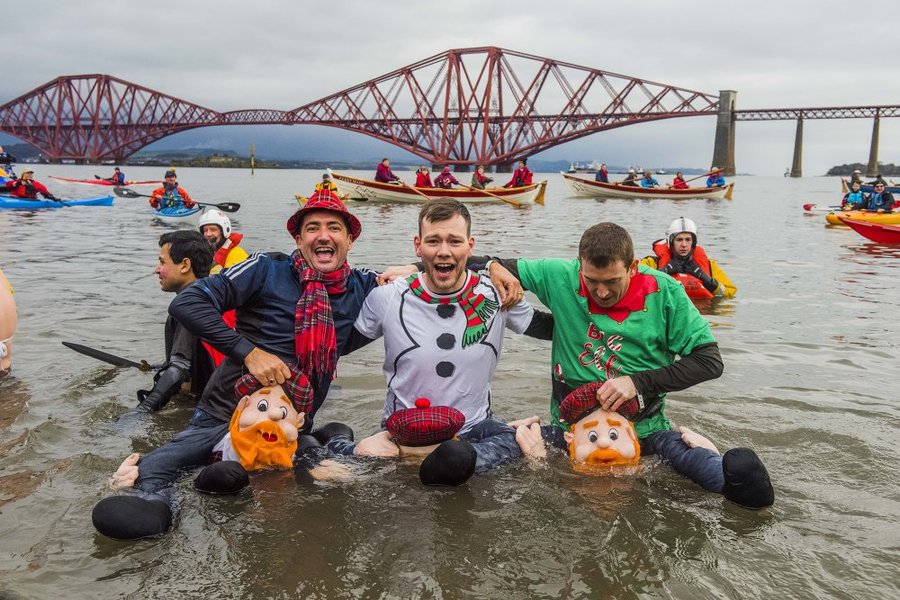 New Year's Day
The hardy among you can begin New Year's Day with the Loony Dook in South Queensferry, which should prove a bracing wake up for the final day of the Hogmany celebrations. There's the free to attend First Footers Family Ceilidh at McEwan Hall, which is followed by concerts in the afternoon and evening that represent a new collaboration between Edinburgh's Hogmanay and Celtic Connections. First there's a traditional knees up with Capercaillie and some special guests from 4pm, then at 8pm Galician folk star Carlos Nunez joins special guests from the cream of the Scottish music scene for an evening of musical exchange.
Message from the Skies also returns on 1 January (running until 25 January) with a celebration of Scotland's literature and its connection to Europe. a co-commission with Edinburgh International Book Festival it takes the form of six "love letters to Europe" and will be projected on to iconic buildings throughout the city. The six Scottish writers penning letters are Billy Letford, Chitra Ramaswamy, Kapka Kassabova, Louise Welsh, Stef Smith and William Dalrymple. These writers come together representing the worlds of poetry, journalism, fiction, travel, history and theatre to write their love letters to Europe with a range of different composers and projection artists from Scotland.
In short, it's an eclectic three days with something for everyone. And as Franz Ferdinand's Alex Kapranos says, "Hogmanay is the greatest party of the year and there is nowhere in the world like Scotland to celebrate it. Just thinking about bringing in the bells in Edinburgh gets me excited. It's going to be some night!"
---
For the full Hogmanay line-up and to buy tickets, head to edinburghshogmanay.com