The Motion Poets – A Girl Like This (Video Premiere)
Edinburgh indie-grunge quartet The Motion Poets share their latest video, for new track A Girl Like This
The Motion Poets are made up of guitarists Jonah Stead and Struan Nelson, bassist Morgan Smith and drummer Euan Lyons; the band combine elements of grunge, indie, Britpop, blues and new wave in their sound. Away from their instruments, the band tell us their interests include "seeing gigs, discount beer, and decorating their shared flat with street furniture and fairy lightsm," and that last one shines through in their stairwell-shot new video. We're pleased to be premiering the video for A Girl Like This, which you can watch in the player above or here if it's not displaying. Warning: this video contains flashing images from the start and throughout.
"We're really happy to finally get this one out," Motion Poets frontman Jonah Stead tells us. "A Girl Like This is one of the first songs we wrote as a band and has since been in development on and off for the past three years, now on its third iteration as a recorded song. It's a lot ballsier than our previous single One Too Many, with a heavier garage rock influence and is closer to our overall sound than the last single."
Filling us in on the story behind the track, Stead says: "It's about the excitement, and terror, of finding someone new after previous hardship and difficult relationships. The song refers to a fire that burnt down my home in late 2014 and was written at a point where I was entering my current relationship. It's a reflection on the hard period of my life prior to the period of writing, including a brief point of angry and surprising faith. It is also a critique of myself at that time and contains some dark comments but also a lightheartedness with a feeling of it being time to let go."

The video itself was shot in the stairwell of the band's flat, with blue strobes placed on each landing. "Thankfully we got permission from the neighbours for the stairwell shoot," the band tell us, "although we got some laughs and bemused looks from those coming home at the end of the day and discovering a film set on their landing! The video combines live performance footage with cut-aways to profiles of women. We aimed to give these women an empowered image using war-paint and their elevated position relative to the band."
---
A Girl Like This is out now; The Motion Poets play Meadows Festival at the Meadows, Edinburgh on 3 Jun
---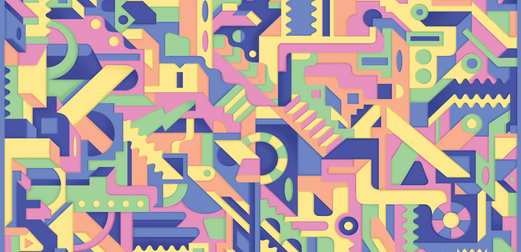 Want to receive the best of the Scottish cultural scene in your inbox every week? Sign up to our mailing list!
---