Scottish New Music Round-Up: June 2023
From experimental jazz to indie-pop concept albums, there's so much good Scottish music flying around this summer, you'll need a really big net to catch it all
Last month, we missed EPs Iliad by Theo Bleak and Celestia Deep Diver by Pearling. May singles came from Sean Focus (Arr You Ready), Oyakhire (Until Then), Linzi Clark (Sea Song), Starsky-Rae (Sentimental Fuck), Whim (Levitation) and Chef the Rapper (Payday, ft. Katherine Aly). Siobhan Wilson capped off May with a double-album release on the 31st; Recording Of Myself In A Room Of My Own, a title which hybridises works by Virginia Woolf and Walt Whitman, makes the first half, with instrumental Seeing With Myself in Nature being the latter, a soundscape inspired by the pastoral scenes of the Scottish Borders where Wilson works.
And then, June! Kicking things off is NANI's EP Honey (9 Jun). We've eagerly awaited material from the Edinburgh-based singer-songwriter after singles Search Bar and Limbo warmed up the chillier months, and the ultra-smooth stylings of the indie artist will make a cool conclusion on the Sunday of this year's Kelburn Garden Party, where NANI is playing our Pyramid Stage.
The Foam Road (16 Jun) is the debut of Shea Martin, aka Housekind. Coming to Edinburgh from a Gaeltacht region in Ireland, where the Irish language is the most commonly spoken, Housekind's competency with traditional Celtic sound is apparent across this EP. Light strings or percussion fade in and out to accompany Martin's haunting performances and mystic ruminations, particularly in Salt Shield and Dear Ones. See the EP launch at Dragonfly in Edinburgh on 18 June, where Housekind is sure to deliver an arresting, spiritual recital.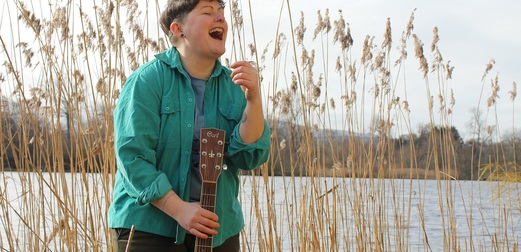 Housekind. Credit: Celia Phillips
Sound design fans will be well-fed this month. Nichola Scrutton's Interzone (15 Jun) earns its experimental distinction with innovations in performance and post-production, as well as themes of liminality, or in-betweenness. In-studio, Scrutton performs idiosyncratic vocal techniques, guttural chanting and sharp intakes of breath, which are intermixed with abstract accompaniments, modulating into the notes themselves. Unfamiliar methods of distortion create the sense that this is all a distant dream, or, as Scrutton's voice becomes more overwhelming and antagonistic, a restless nightmare.
Before you've had the chance to wrap your head around that record, Enymore by Josef Akin drops the following day. This intricately woven jazz album, full of inter-instrumental, improvisational breaks, gives ample turns for the synth to solo, keeping the sound high-tech while working in a very historied genre. Akin is occupied by frontiers, not just in equipment, but theme. Opener Mchaze crescendoes with a 'blast-off' cacophony, and closer Space Is Still The Place references a 1970s Afrofuturist anthem by jazz legend Sun Ra.
Jazz fans, June is your time. Also on the 16th, catch In Phases, the debut by Azamiah, an ensemble releasing on Rebecca's Records. This 'spiritual jazz' uses the genre's easy-listening nature to invoke a transcendent state of mind. Gently running waters and soothing chants build a monastic tone, and tracks like Solace and Rituals make for a meditative playback experience. Spoiler: it's our Album of the Month – so check the print mag for a full review.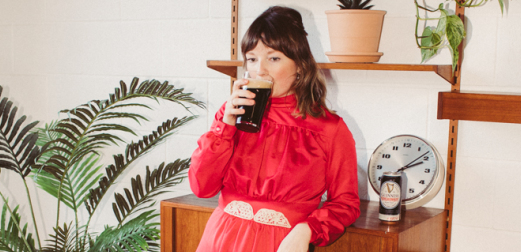 Martha Ffion. Credit: Laura Meek.
There's also plenty of pop in time for the good weather, starting with Rudi Zygadlo's Doggerland (30 Jun). What could be a better score for beach days than an album exploring a primordial landscape as if it were something we could easily walk through this summer? The fantasy of Doggerland, named after the now-submerged land bridge that connected Britain and Europe, reverses rising tides and political strife. Antediluvian environments are resurrected with sonic set-dressing, but the ambitious worldbuilding doesn't come at the cost of playability. Zygadlo's iconic voice slides around the scales, his elastic performance accenting the diversity of this Mesolithic ecosystem, while giving the album a radio-friendly, indie-pop/psych-rock flavour.
Releasing on the same day is The Wringer by Martha Ffion (by no means as gruelling as the title suggests). The tracks are immediately playful, with charming lyrics in a major key, full of affection, and just what we need moving into July. The peppy backing vocals and electric guitar give the album its 60s and 70s vibes, drawing comparisons to Dusty Springfield and Steely Dan.
For other highlights this month, indie composer Rianne Downey releases Method to My Madness (9 Jun). An uplifting address to the lovelorn and self-destructive, it's as sweet as it is sing-in-the-showerable. Glasgow hip-hop heavy-hitter Texture gives us OLD BOY (17 Jun), a dark, dystopian EP made in collaboration with Supermann On Da Beat and eyesluvsu. Check Odes of Hope for Sad Bois (8 Jun), the newest EP by Aberdonian indie-pop auteur Heff VanSaint. Classical guitarist Morgan Szymanski and experimental musician Tommy Perman breach their long-distance partnership to bring us Flying Among the Trees (23 Jun), and Scottish exports Django Django release their latest, Off Planet (16 Jun), featuring contributions from Self Esteem, Stealing Sheep, Jack Peñate and more. June singles include Matriarch by MALKA, a touching open letter to the maternal namesakes, the far-out Otherworld by Celestial North, and the high-kicking Nunchucks by Crush Mouse.