Scottish New Music Round-up: August 2022
This month we look forward to new music from Lizzie Reid, King Wine, Morgan Szymanski and Tommy Perman, Joell. and more
Before we get into August releases, here's a by no means exhaustive list of some of the stuff we missed in July. The start of the month was met with the self-titled debut EP from Glasgow six-piece Memorabilia (featuring members of Kaputt), while the middle of the month welcomed Escapology, the first album in seven years from Scottish producer - and founder of the Hyperdub label - Kode9. It's one part of a wider project entitled Astro-Darien, part two is due in October. There were also wonderful debut EPs in July – CLEAR from the excellently named Glasgow hardcore two-piece Moni Jitchell, and West Road from producer, singer-songwriter, artist and creator Rpizy, as well as the debut mixtape, Feet On the Ground, from Edinburgh rapper Oyakhire.
Singles came out in abundance too across a multitude of genres, with new tunes from Alex Amor (Bad Tattoo), Clair (Body Blossom), Bemz (Zidane), SHEARS (Carbon Copy), AROMA (Sundial ft. Praize 4G & Ringu), AMUNDA (You Walked Away), Joesef (East End Coast), 4Tune (Where U @), and the mighty Young Fathers, who surprised us in the middle of the month with their first new music in four years, the incredible Geronimo.
Back to August. Amid the chaos of the Edinburgh festivals, there's tonnes of new Scottish music coming out. On 5 August, the latest from Edinburgh label Blackford Hill comes in the form of Music for the Moon and Trees, the collaborative (and mostly instrumental) record from Mexico-based classical guitarist Morgan Szymanski and Perthshire-based musician Tommy Perman, and there's something really quite romantic about it. It's in the long-distance friendship the pair have held onto since the mid-90s, finally coming together to make a record despite living on different continents; it's in the meditative nature and arc of the music, and in the poetic name of the album itself.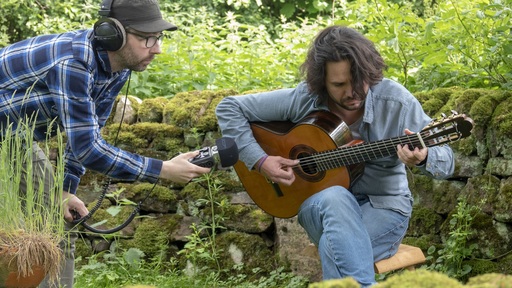 Morgan Szymanski and Tommy Perman
Playing out like a night out for the moon and the trees, it starts and ends delicately with a focus on Szymanski's guitar-playing, becoming bolder and brighter in the middle by way of Perman's beats as the album takes us on a journey from moonrise to moonset. It's like an exclusive club night of sort for the moon and the trees, as they dance to their own private soundtrack - an intimate and deeply comforting record of real beauty.
On 31 August, Glasgow singer-songwriter Lizzie Reid returns with Mooching. Where her 2021 SAY Award-shortlisted record Cubicle explored her first same sex relationships, on Mooching, Reid is confronting her mental health struggles for the first time, addressing OCD, anxiety and panic attacks, but all still very much through the lens of love, longing and heartbreak. On the opening track, Love of Her Life, she sings: 'She told me I'm the love of her life / She told me even when she changed her mind', and it stings. 

By the EP's closer, Warpaint, Reid's stripped-back acoustics are replaced for a fuller band sound, mirroring Reid's growing confidence as she chooses not to dwell on a frustrating situation. Opening with: 'Some kind of chest pain / Slipped into my drink last night', she later acknowledges that 'truth hurts' and chooses to simply get on with life. Co-written with Frightened Rabbit's Andy Monaghan, it's the most carefree song from Reid yet, still beautifully showcasing the strength of her songwriting and lyricism. Heartbreak may suit Lizzie Reid, but it's nice to hear her sounding more upbeat here.
For more upbeat tunes this month, may we direct you towards the chewy 8-bit beats of King Wine, who we recently described as "Glasgow's best kept secret". Hopefully that won't be the case for much longer as the Game Boy duo release their self-titled debut album on 27 August. A non-stop joy-filled party from its opening bleeps to its closing bloops, get ready to dance yourself happy this month with tongue-in-cheek songs about puberty, riding bikes in the summer, hot broadcasters, nonsense and sad dance parties, making for a wholly uplifting listen.
Also this month, rising R'n'B talent Joell. releases his latest EP, 60 in a 20 (11 Aug). Filled with lazy elastic hip-hop beats and ethereal autotuned vocals which melt beautifully into the music, on 60 in a 20, Joell. explores the feeling of isolation for someone who is rarely in one place for long. Where the first half focuses on chasing the highs and lows of music-making, the second is more buoyant, bouncy and confident sounding, and hopefully a sign of more good things to come.
Elsewhere, Calvin Harris releases Funk Wav Bounces Vol. 2, Altered Images release Mascara Streakz, their first album in almost 40 years (26 Aug), while producer extraordinaire Hudson Mohwake's Cry Sugar arrives on 12 August. On the same day, Scottish-Egyptian duo The Ayoub Sisters release Arabesque, while Becca Starr's Speak No Evil arrives on the 19th. There's also a psyched-out new single from Amateur Cult (The Ritual), dreampop from Community Swimming Pool (all the time), indie-rock from Midnight Ambulance (Smoke & Sweets), quirky pop from Maxwell Weaver (The Disconnect Between) and sugar-coated pop from Rachel White (Crush).