Quiet as a Mouse – Modern Technology (Track Premiere)
Listen to new track Modern Technology from Edinburgh five-piece Quiet as a Mouse
Edinburgh-based five-piece Quiet as a Mouse – comprised of Alex Moran (singer), Darren Irwin (lead guitar), Eamon Gilson (guitar), Martin Patrick (bass) and Graham Longbottom (drums) – formed in 2012 and are set to release their debut album, Is it Funny When it Hurts? this April.
The album was part-funded by Creative Scotland and produced by Kris Pohl, who has worked with the likes of Idlewild in the past, at Post Electric Studio in Leith, incidentally operated by Idlewild's Rod Jones. Is it Funny When it Hurts? will be Quiet as a Mouse's first full release since their Memorybox EP in 2015, and The Skinny are delighted to be premiering its first single, Modern Technology, which you can listen to in the SoundCloud player below.
"It's really cool [that] Modern Technology is the first track people are getting to hear from Is it Funny When it Hurts?", Moran tells us. "For me, it's not a typical single selection as I see it as a classic album track with the second half being the highlight of the song; musically it's one of the strongest songs we have written together. In the first part of the song, the lyrics show me getting out some of my frustration with modern life/technology. I feel, especially with technology, for all the good it has bought and brings, it brings an equal amount isolation, hurt and things that are simply unnecessary. I'm pretty proud this is done in a tuneful post-punk kind of way.
"The second half is far more romantic, wistful and pretty as it harks back to memories of when I used to be nervous as hell calling a girl's house on the phone, and wondering if her Dad or Mum would pick up… In my head [it's] kind of like an old John Cusack movie like Say Anything... or The Sure Thing.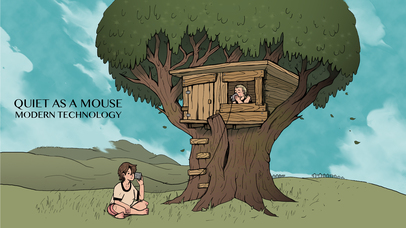 "The artwork [for Modern Technology] was done by our long time collaborator Bootch," Moran continues, "who has composed many of the Quiet as a Mouse, and The Seven Deadly Sins' (my previous band) gig poster artwork. I had the raw idea of two children talking with two tin cans and a piece of string – Bootch made it his own and we're all over the moon with his piece of work."
---
Is it Funny When it Hurts? is set for release on 27 Apr; Quiet as a Mouse play The Hug & Pint, Glasgow, 26 Apr; Leith Depot, Edinburgh, 27 Apr; The Old Blue Last, London, 29 Apr