Maranta – Miss Dupé (track premiere)
Listen to Miss Dupé, the brand new single from Edinburgh duo Maranta
It's no secret that us lot at The Skinny love ourselves a bit of cosmic disco from time to time, and it's even less of a secret when it comes to our affection for Edinburgh duo Maranta. Pre-pandemic we caught them out playing live whenever we could, and even booked them to play our stage at Kelburn Garden Party in 2019, deftly bringing the party to us.
Maranta's music is always effortlessly bright and joyful and their latest single, Miss Dupé, is no different. Set for release on 24 April via Edinburgh label New Teeth, Miss Dupé bubbles with an addictive bassline reminiscent of Architecture in Helsinki, and is delightfully layered throughout with warm and fuzzy synths, playful percussion and gorgeously rich vocals from Gloria Black, with well-balanced and subtle backing from Callum Govan.
As restrictions start to ease, Miss Dupé is the perfect song to accompany these warmer days and longer nights, and has us longing for the day we can dance carefree together again. The Skinny are delighted to be premiering Miss Dupé, which you can listen to in the above YouTube player (click here if it's not displaying correctly).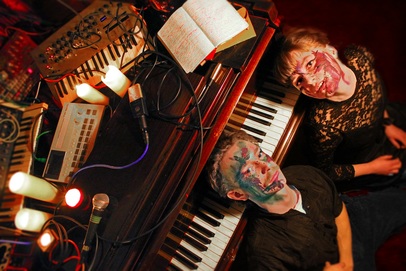 Image: Maranta by Lucie Yavruturk
"Miss Dupé is a song that was written a while back, but it wasn't until last Monday, while sitting in the early morning sun and looking out across the sea from Wardie Bay, that the song truly came to life," the pair tell us via email. "We watched as swimmers plunged into the cold water, heads bobbing above the sea like colourful party hats, a grandfather and grandson rambled along the sand, heads down, searching for sea glass, and dogs played with newly found friends while their owners chatted. The song had found its place, nesting in the surreal nature of the everyday. Our morning of escapism: a pause from reality, an adventure, a discovery.
"The lyrical themes are mirrored by the instrumentation," they tell us. "The bassline is huge and warbling and the synths colourful and unashamed. It's jaunty and bright, over the top, and quite cartoonish in a way. Having fun and not taking yourself too seriously in this surreal reality is a quality that we hold dear."
And if you haven't heard about Edinburgh label New Teeth until now, here's a bit about why they're doing what they're doing, and why they're doing it now: "Starting New Teeth this year was a way for us to bring together and represent the vibrant community of musicians, artists and friends that would usually be haunting our local bars and music venues.
"Maranta's work ethic is inspiring and they are on board with our quest to build an inclusive music community." They conclude: "Miss Dupé makes us long for the day we're all crammed into a room filled with strangers, sweat and speakers. Dust off them subwoofers!"
---
Miss Dupé is available via Bandcamp and YouTube from 24 April and will be available across all other streaming platforms from 8 May
marantaa.bandcamp.com
facebook.com/newteethleith