Colonel Mustard & The Dijon 5 – Freedom for the Children (Video Premiere)
Watch the new video for Freedom for the Children by Colonel Mustard & The Dijon 5
Colonel Mustard & The Dijon 5 are the genre-hopping, shiny disco-ball-hat-wearing Glasgow collective responsible for the Yellow Movement currently sweeping the nation. 2016 was their most successful year to date, seeing them play 38 gigs, including a set at T in the Park where they crowd-surfed on a giant inflatable… Don't believe us? Check this out…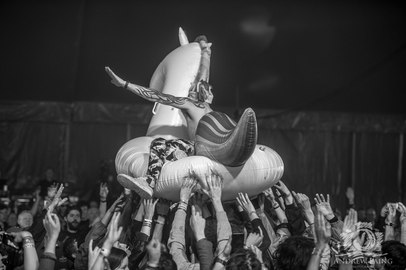 They've so far played two huge headline shows at Glasgow's legendary Barrowland Ballroom and are taking their mustardy goodness to the O2 Academy on 13 May, marking their biggest show yet. Before that they're releasing a special yellow double A-side 7'' for Record Store Day at Love Music Glasgow on 22 April and will be officially releasing it to stream and download from 8 May. The Skinny have been fortunate enough to get a first look at the video for Freedom for the Children, which you can watch in the player above.
Colonel John Thomas McMustard, the Dijon 5's ringleader, tells us more about Freedom for the Children: "It's a fun wee song about children's rights that I started writing with my daughter Evie for a project at her nursery. It's got some humorous lyrics about bogeys and birds, as it's written primarily to be catchy and a happy singalong song for kids, but it also carries another message for adults.
"It's important for us to question our Government's motives and to educate ourselves on exactly what's going on and to remember every child is born with an open mind," McMustard continues. "What we teach our kids is key in their development. For me love, tolerance, and respect are what we should be passing onto the next generation, as well as imagination and a good sense of humour. Musically the song's influenced by Lee Dorsey, The Staple Singers and more recent bands like The Bees and St Paul & The Broken Bones, so it's a funk [and] soul number with a fantastic production job by Rocket Science.
"The video was mainly filmed in and around the Space (a new community arts project on London Road in the East End of Glasgow, just across from St Luke's – they have their official opening weekend from 27 April with loads going on) by Martin J Windebank," he reveals. "The video features a lot of the band's kids and [their] friends, as well as friends from the charity Refuweegee.
"Refuweegee do great work in Glasgow with welcoming refugees and providing them with a community built welcome pack [containing] essentials – Selina Hales who runs Refuweegee wants to make sure that when people arrive in Scotland they receive the welcome they deserve and a few useful tips too!
"Children are children everywhere, this is about recognising what unites us.
"Peace, love & mustard"
---
Cross The Road / Freedom For The Children launches on Record Store Day at Love Music Glasgow; Colonel Mustard & The Dijon 5 play Glasgow O2 Academy on 13 May, tickets here