Carla J Easton – Lights in the Dark (Video Premiere)
Watch the new video from Carla J Easton (TeenCanteen / Ette), taken from her new solo album
Carla J Easton of TeenCanteen and Ette is back with a new solo album, written during her spell at The Banff Centre For Arts and Creativity on their Singer Songwriter Residency. The new album was recorded in Montreal at the Hotel2Tango studio of former Arcade Fire drummer Howard Bilerman and Godspeed You! Black Emperor members Efrim Menuck and Thierry Amar, with Bilerman handling production duties. 
The new album is a synth-led collection of songs produced with an all-Canadian band, and we're delighted to be sharing the video for Lights in the Dark – directed by Belle & Sebastian, Franz Ferdinand and Camera Obscura collaborator Blair Young. Watch Lights in the Dark in the YouTube player above.  
Introducing the new track and video, Easton says: "I'm so happy it's the first song people will hear from the new collection of songs I spent most of last year working on as it is one of my favourites from the entire recording period at Hotel2Tango in Montreal. When I was over there, the core musicians I was living and working with were fellow residents from the Banff Centre – each solo singer-songwriters in their own right – who had never been part of producing a synth-lead record.
"Lights in the Dark actually ended up coming together pretty quickly considering we had absolutely no rehearsal time as a band prior to recording it live off the floor before layering up. Laura Hickli, Jesse Shire, Debs Smith (TeenCanteen) and I each had a synth station built up from the vast collection Howard has at Hotel2Tango – I really was in my element. The recording is live synths to a Korg Volca Beats drum pattern – I think it's the second take! – before Kev Corbett added live drums and Brett Nelson built up layered guitar parts. There's a Sub 37 Moog, Solino String Ensemble Synthesizer, Yamaha DX-7, Micro Korg, Roland Juno DI and an Oberheim Two Voice Analog synth on it – I felt like I was in heaven!"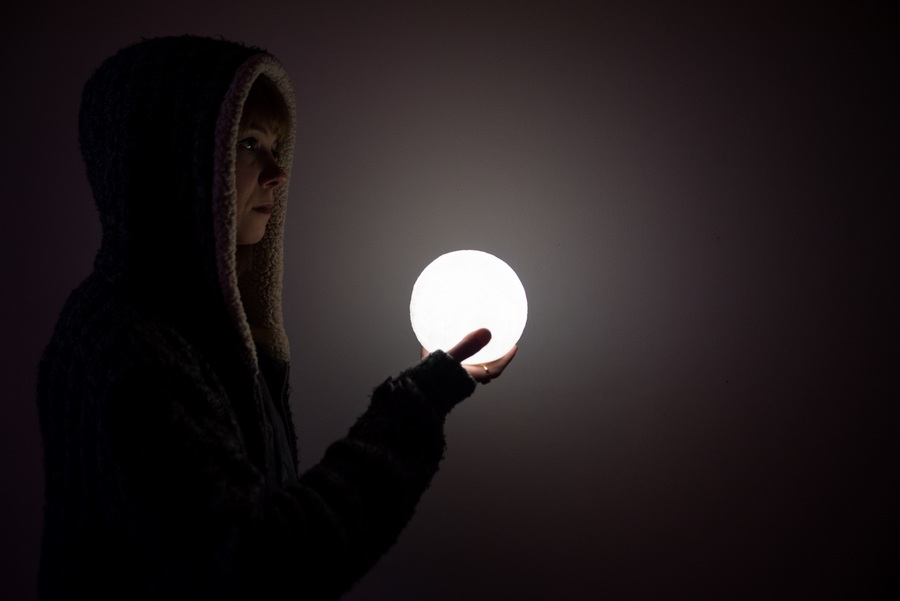 [Carla J Easton. Photo: Kat Gollock]
"Thematically all the songs link together to take you from reality through to lucid dreaming and fantasy worlds. I think that the period I was writing all these songs became quite introspective due to moving back to my childhood home and writing everything on the piano that I learnt to play on as a kid rather than writing on a synth. Lights in the Dark sits on its own in this collection in terms of the sound, lyrically acknowledging it's the little things that ultimately count and you miss most when they are gone.
"I can't remember what I had been listening to at the time of writing it on the residency. For the long plane journey over I had put a lot of my favourite albums on my phone to listen to including ones I hadn't visited in years – though when I listen to Lights I don't hear those influences but maybe others will! The albums I was listening to at the time were It's a Shame About Ray by The Lemonheads, Gonna Take a Miracle by Laura Nyro, All Things Must Pass by George Harrison, Let it Come Down by Spiritualized, Words of Wisdom and Hope by Teenage Fanclub & Jad Fair, and Sha Sha by Ben Kweller. Weirdly I was deep in the midst of reading a copy of The Letters of Vincent Van Gogh.
"For the video it was great to work with one of my best friends and, now, longtime collaborator, Blair Young. I guess with shedding the alias of Ette and having the confidence to release something under my own name we both wanted to try and do something that fitted with the direction my new work is going in. And also have fun making it! It was shot at Blair's cottage up near Loch Fyne on a very cold evening in December and visually draws heavily on Close Encounters of the Third Kind as a main influence. I put the glitter and sequins to the side."
---
Lights in the Dark is out on Mon 29 Jan. Carla J Easton plays The Hug & Pint, Glasgow, 25 Jan; The Castle, Manchester, 31 Jan; and The Sebright Arms, London, 2 Feb. Easton also plays Neu! Reekie!'s Burns Eruption at Summerhall, Edinburgh, 27 Jan.