Weyes Blood @ The Art School, Glasgow, 28 Oct
There are no wild flourishes or eye-catching set pieces to a Weyes Blood show. This is simply fantastic music, beautifully performed; nothing more is needed
"It's hard to make quiet, ambient music in a room with so many people," Ana Roxanne nervously laments. It's a tough gig, especially as a support act, but she makes such a mesmerising brand of ghostly, abstract noise that it's impossible to look away, much less interrupt with any sort of chatter.
Weyes Blood, aka Natalie Mering, and co. have a tough act to follow, but it only takes a few seconds of A Lot's Gonna Change to see that they're up to the task, complementing Roxanne's foggy textures with wide-eyed sincerity and immaculate, clear vocals. Choice cuts from Front Row Seat to Earth are the pick of the litter early on, especially Seven Words (introduced sardonically as Silver Birds) and Diary, but Picture Me Better shows the best of Titanic Rising with its heartbreakingly beautiful lyrics.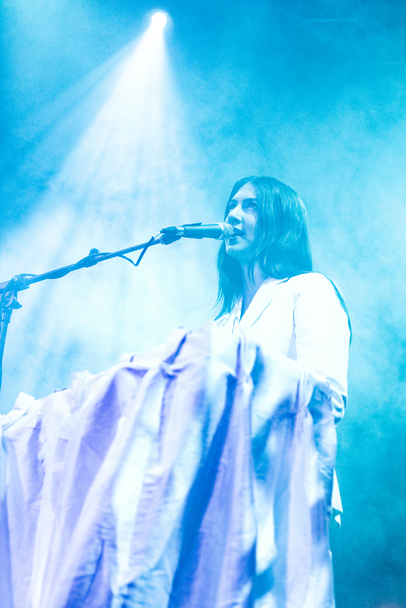 Image: Weyes Blood at The Art School, Glasgow by Kate Johnston

Mering is typically deadpan in her frequent crowd interactions, polling us on the likelihood that Stanley Kubrick directed the moon landing and expressing a connoisseur's distate for deep fried pizza (she's onto the good stuff, now). "Have you noticed that I'm underwater?" she asks as the swirling lights imbue her nude suit with a perfectly cute aquatic effect, before Andromeda and Movies close the main set, demonstrating just why Titanic Rising is one of the best albums this year has to offer.
Do You Need My Love opens the encore on a delicate note, but rises to its impeccable crescendo with mounting drums and cascading keys. A cover of Procol Harum's A Whiter Shade of Pale provides another showcase of Mering's vocal range, adding a few sustained wails to her generally restrained warble. A solo, acoustic rendition of an oldie, In the Beginning, finishes things off, giving the best glimpse into the country-tinges that Mering clearly has some affinity for.
There are no wild flourishes or eye-catching set pieces to a Weyes Blood show. This is simply fantastic music, beautifully performed; nothing more is needed.