Vukovi @ Nice 'n' Sleazy, Glasgow, 24 Jan
Marking the release of their second album Fall Better, Vukovi bring a frenzied party to Nice 'n' Sleazy
As understated as it is by frontwoman Janine Shilstone (who doesn't so much as mention it throughout the night), Fall Better, Vukovi's follow-up to their eponymous 2017 record, is out now and available for all the world as of this very day. As such, there's a celebratory, congratulatory air of warmth in the aptly stuffy basement bar of Nice 'n' Sleazy on its launch day, as a gathering of friends, family and fans all descend the steps for a sweaty night of noisy pop-rock.
Shilstone almost looks overwhelmed by the crowd's energy as they dive into opener Violent Minds: "Fucking hell Glasgow, you're setting the bar for the rest of the tour here." Her vocal delivery is sheer glossy goodness, faultlessly flinging out soaring highs that are only disrupted when she recognises someone she knows going for it at the front, or when she hears some funny patter and breaks into contagious laughter.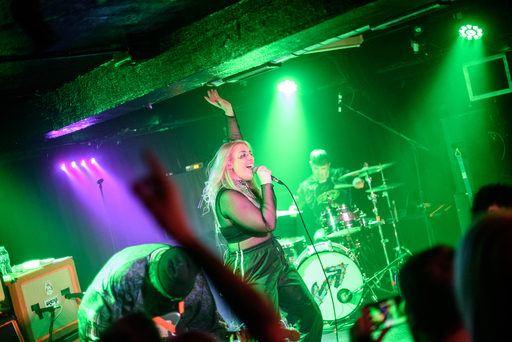 Image: Vukovi @ Nice N Sleazy, Glasgow, 24 Jan by Aimee Young
As expected, much of the setlist comes from Fall Better. For an album that came out literally hours ago, fans seem familiar with most tracks (or if not, they're giving it a bloody good go anyway), although singalongs are strictly reserved for singles and older bops. The teeny room and its engaged occupants dancing in its limited spaces give this a real hometown show feeling, even if we're over 20 miles from Kilwinning.
There's a wholesome moment as Shilstone enters the crowd to sing Colour Me In in the middle of the floor, surrounded by people joining in. While it does get a bit chaotic by the end largely thanks to some boozy heckling and more of Shilstone's laughter, closer La Di Da is a fiery end to a sweltering night to remember for one of Glasgow's finest pop-rock acts.