TRNSMT, Glasgow Green, 11 Sep
While the scheduling is far from perfect, from sea shanties to sozzled singalongs, Saturday at TRNSMT headlined by Liam Gallagher is quite the day
After a year off, TRNSMT is back at Glasgow Green. Those who can make it through the assorted Covid precautions by noon can catch the first act onstage, viral sea shanty man Nathan Evans. Sadly this doesn't include this reviewer so what Mr Evans has to offer aside from a TikTok-famous boating song will have to go undiscovered.
Nevertheless the Green soon fills up and by the time inoffensive Irish pop rockers Picture This take the stage, the park is pretty packed. The group have a pair of number one records in their native Ireland and while they've not cracked the UK in the same way yet, there's a dash of melody that could easily see them explode the way the likes of The Script have done in the past.
Not everyone in attendance is quite as sedate as the band onstage however. "Get tae fuck you spicy roaster," yells one heavily face-painted girl at an equally plastered bloke who bumped into her, spilling her drink. It is 2.27pm.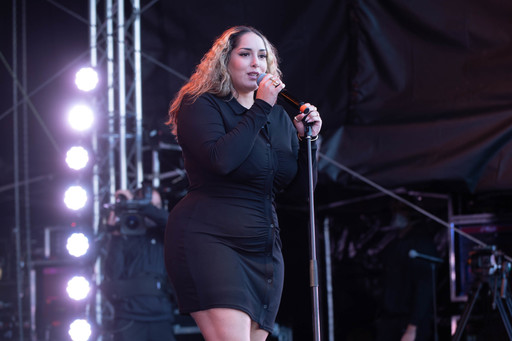 Image: Miraa May by Allan Lewis
Over at the King Tut's stage, fans awaiting electropop bangers courtesy of London singer and producer Georgia are disappointed as a last-minute throat infection scuppers her set. Instead, Algerian-born Tottenham-based singer Miraa May takes her slot, delivering predictable but uplifting stage banter and warm soulful R'n'B.
Whether it's COVID-induced drop outs, a Faustian pact with the beer industry or something else, the scheduling leaves something to be desired. There are times where all three of the main stages have nothing on, leaving only the extremely packed Boogie Bar with music playing.
Still, for many people they're just glad to be outside with their friends once again. After a challenging 18 months it looks like a fine autumn for manufacturers of bucket hats, bum bags and fake leopard print, and the finery is on full display for KSI. The YouTuber and boxer's second album All Over the Place – while far from a masterpiece – at least established him as something more than a hobbyist in the music business and today he's introduced on stage in wonderfully surreal fashion by a video of Lorraine Kelly chanting "Here we fucking go."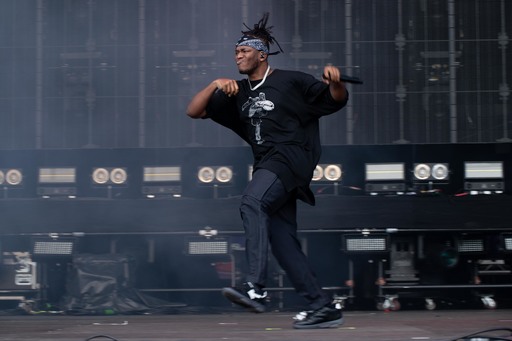 Image: KSI by Allan Lewis
A man to my right asks if I have any MDMA. It is 3.42pm.
Honestly, though, as uninspiring as his music might be, it's hard to resist the bouncing Londoner. His energy and grin are infectious and the young crowd, many of whom are now on each other's shoulders, go wild to opener The Moment. He's a charismatic presence who knows exactly what to give his audience, whether that be copious call-and-response sections or making one of his friends do 20 push-ups onstage, presumably for future YouTube content.
With the festival rebranded as "cinch presents TRNSMT" and the emphasis on virality among some of the bookings, it's easy to be cynical about the dollar-driven side of the event but one act who are certainly here to make no compromises are Dublin's The Murder Capital. Their chest-beating post-punk might seem better suited to dingy basements than mid-afternoon festival slots but the quintet play with gusto, egging the crowd into a series of circle pits. Dressed eye-catchingly in a 1970s outfit and dangling earrings, James McGovern is an impressive frontman and by the end of their set they've locked in many more fans than they began it with.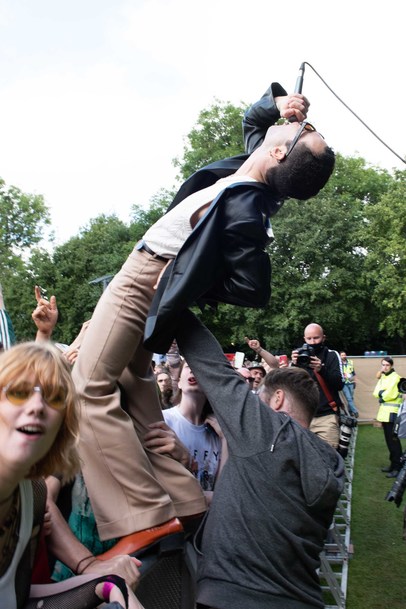 Image: The Murder Capital by Allan Lewis
Over on the River stage, Chubby and the Gang's Ramones racket is also deceptively tight. It's a small crowd but energetic and refreshingly unpretentious tracks like Pressure and Lightning Don't Strike Twice hit like a blow to the head.
In the race to be the next Gerry Cinnamon, Dylan John Thomas is well placed for a sprint down the middle. With his signature big hair, slice of life song-stories and everyman delivery he's well on the way, and when he shifts into a skiffle-y acoustic rock mode he's got the tunes to keep the revellers down the front busy too. A rather predictable cover of Ring of Fire might feel a little cheap but his deft fingerpicking is impressive and the ecstatic crowd response suggests they don't care.
A man in an Adidas top buys a pint and attempts to limbo under a rope next to the bar, tipping the pint over his head. It is 6.19pm.
Looking at Keane's clean-cut Tom Chaplin, it's hard to believe the first flush of his band's success ended in despair amid the detritus of a sizeable cocaine habit. Tonight the trio know exactly which side their bread is buttered, leaning heavily on their blockbuster debut and playing a series of hits that echo to the furthest corners of the field. Somewhere Only We Know gets even the casual listeners singing along. It's great to see them get a happy ending.
Back at the River stage, hotly-tipped Glaswegians Lucia and the Best Boys wrestle with technical difficulties. Their tunes channel a Greatest Hits of 80s best bits from Bowie to The Cure and in Perfectly Untrue they have a singalong calling card too. Singer Lucia Fairfull is a ball of energy and eventually they salvage the set from electrical gremlins.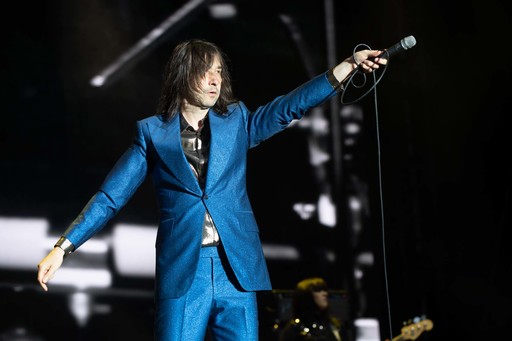 Image: Primal Scream by Allan Lewis
Another one who seems to have no shortage of energy is Primal Scream's Bobby Gillespie. He might be nearer in age to old Mick Jagger than a young Mick Jagger nowadays but he knows how to deliver the business, shimmying in a shiny shirt and vamping through hits like Jailbird, Country Girl and Rocks. It doesn't quite have the ecstatic communal feel of their Screamadelica anniversary dates but they'll struggle to find a more accommodating or enthusiastic audience than here in Glasgow.
Anyone hoping to catch Becky Hill before the main event is out of luck because the King Tut's stage is full and closed to new people but thankfully there's not long to wait until it's time for our headliner, Liam Gallagher. Noel's younger brother is finally allowed out to tour Why Me? Why Not?, his fourth post-Oasis record but the first that might plausibly appeal to someone who wasn't already seeped in nostalgia for the legendary Mancunians.
On stage he's unmistakeably Liam Gallagher from the self-aggrandising demeanour to the iconic mic stand pose, head up-turned, hands behind his back. An opening salvo of Hello, Rock N Roll Star and Morning Glory is belted back by the crowd, while the massive, distorted harmonica of Wall of Glass is the best thing either Gallagher has produced in a decade.
Dedicating songs to 9/11, the town of Halifax and his son Gene who was supposed to appear on stage but is "in bed with a hangover and some Horlicks", he's still every inch the iconic frontman. While not every solo track hits like his 90s prime, there's plenty here to enjoy as long-time sidesman Jay Mehler and ex-Oasis rhythm guitarist Paul 'Bonehead' Arthurs trade licks.
The final stretch sees Gallagher return to his work with his former band, with Supersonic, Roll With It and Live Forever still sounding impossibly huge in the hands of the Glasgow crowd. Finally it's time for Wonderwall to send a satisfied crowd out into the night, and the highest compliment that anyone can give is that this is an occasion where actually you really do want to hear someone play Wonderwall. From sea shanties to sozzled singalongs, it's been quite a day.