TRNSMT @ Glasgow Green, 9 Jul
Day three of Glasgow's biggest festival has a distinctly more alternative feel to close the weekend in style, with sets from The 1975, Ashnikko and more
Despite near-tropic levels of rain on Saturday, the much-trodden ground of Glasgow Green is holding up like a trooper as another fifty-thousand-or-so festival-goers descend onto the hallowed ground for what looks, on paper, like the most alternative-leaning of the three days. 
After Liverpudlian rockers The Crawlers kick things off nicely, the main stage is already packed with swathes of folk crowded for Pale Waves. Vocalist Heather Baron-Gracie is in fine form as she soars through the band's dossier of indie-punk pile drivers and sing-alongs to a fittingly warm reception.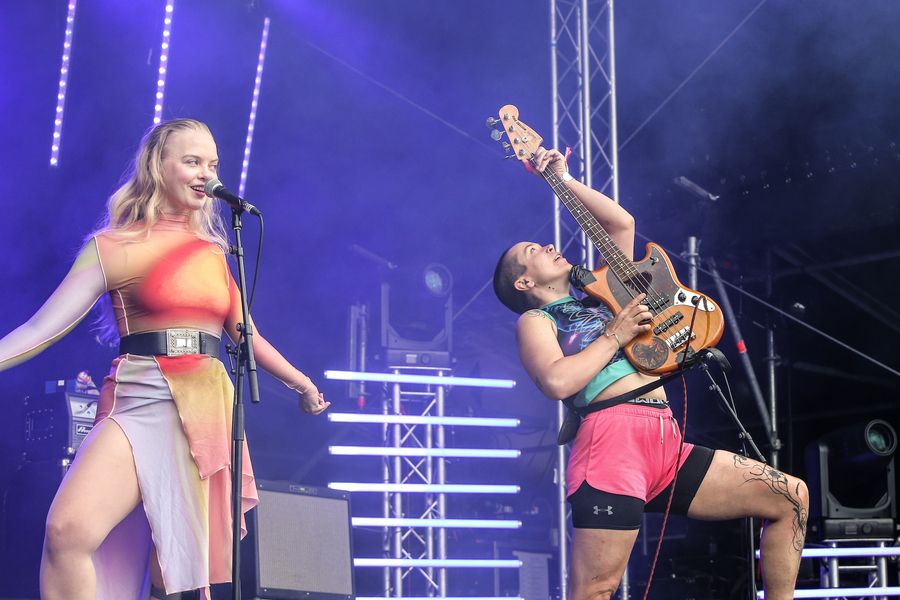 Dream Wife on stage at TRNSMT. Photo: Roosa Päivänsalo
All three stages are close enough to get to in a hurry without much sound bleeding through – which is handy when it comes to Dream Wife over on the King Tut's stage. Sadly, the crowd is flat, with only a small pocket of people bobbing at the front. In this reviewer's notes, it reads: 'Not enough pits, swinging fists or elbows' – a shame considering their catalogue of feminist punk is just perfect for all three.
By 3pm, the Tut's is alive and kicking as charismatic duo Bob Vylan coordinate their followers into a contradiction of stretches to the soundtrack of blistering riffs and double-kick drummage. As frontman Bobby Vylan (not to be confused with drummer, Bobbie Vylan) unleashes a cathartic tirade of influential political punk, The Tut's stage so far has the feeling of a soapbox for positive politics, matched by a crowd awash with some impressively creative 'fuck the Tories' apparel.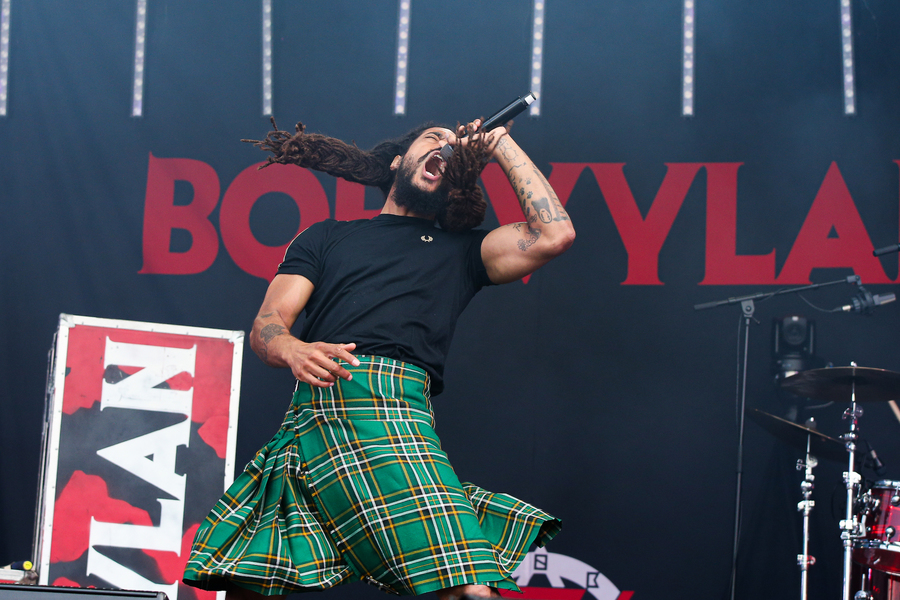 Bob Vylan on stage at TRNSMT 2023. Photo: Roosa Päivänsalo
After all that harsh realism, it's time for something a little sillier. Enter: Ashnikko. The blue-haired, hyper-pop superstar jumps straight into some glitchy angst-thems littered with cheeky lyricism, manic laughing fits and admirably flexible on-stage, erm, faux sex acts, to appease the superfans at the front, bops some heads in the middle, and simply bemuse passers-by at the back. A bloke beside me spits out his drink at the line: 'That dick taste like a Yankee candle'.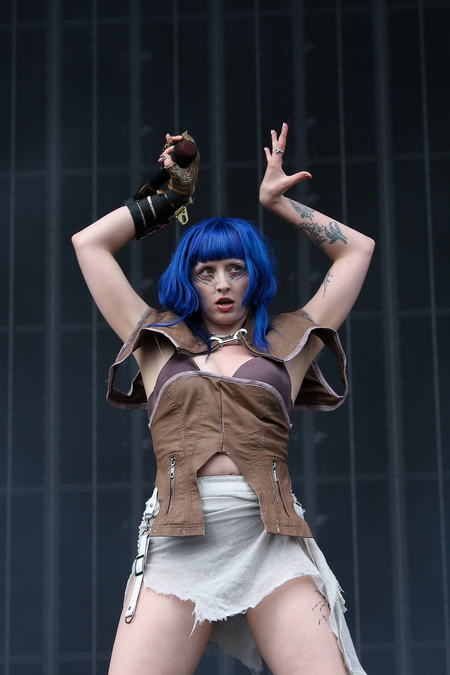 Ashnikko at TRNSMT 2023. Photo: Roosa Päivänsalo
Off of our space-pop odyssey, indie-scene veterans The Kooks slam down a set that just screams 'summer'. This is probably their millionth festival appearance yet they're not showing signs of wear – they're slick, sound, and solid all rolled into one shaggy-haired bunch of thirty-something teenagers. The spectators oddly aren't as up for it as you may expect, however, only rearing their sunburnt heads and bucket hats when classic Inside In/Inside Out tracks like She Moves In Her Own Way and Naive are played. 
'TRNSMT, how you feeling?!', asks the sparkly-suited queen of 2010s dance, Becky Hill. Joined by a host of similarly shiny backing dancers, Hill's pull is pretty huge as the biggest dance act on the main stage today amongst a heavily indie/alt line-up, which only helps her pitch-perfect vocals and huge pop hits to stick further in the memory as a boogie-filled pallette-cleanser.
Keeping that energy going, over on the Tut's stage The Enemy return to the land where they played their first show. In homage to those halcyon days, their set is comprised of majorly of tracks from their debut album We Live and Die in These Towns – including that very title track, played on an acoustic guitar that Tom Clarke says he bought in the Barras market after a 2007 show. Nice touch.
We rush back to the main stage as the grizzly bass tones fizzle through the speakers to sound the emergence of Royal Blood. The duo are another of today's line-up that feel quintessentially 'festival band', with enough riffs, hooks and the like to pump everyone up. They pause the show for a few minutes while a fan is hurt, and there's a moment where everyone in the crowd thinks we're being treated to another storm-off tantrum. Alas, we're left disappointed at a lack of drama – but thankful said fan is okay. One final dart to the King Tut's to see Nothing But Thieves round off the stage with some bread-and-butter radio rock. Hey, what a voice that Conor Mason has though, eh?
Having quickly grabbed the incredibly nutritious meal of cheesy chips and a pint of Carlsberg, it's time to get into the real meat of the festival. Self-aware as ever, The 1975 take the chance to address Matty Healy's latest controversies by wheeling him out onto the stage in a red wheelie bin, which he jovially jumps out of to open with Looking For Somebody (To Love). It's impossible to ignore that Healy himself is divisive at best, but when he opens his mouth to sing instead of saying something stupid, the band are simply as good as it gets as a live act. Their incredibly tight performance sees them dish out huge singles and much-loved deep cuts under a picturesque pink sunset that beautifully backdrops a fantastic festival-closing set.