TRNSMT @ Glasgow Green, 7 Jul
It might still be trying to be something for everyone, but day one of TRNSMT 2023 – capped by a headlining set for the ages from Pulp – gets pretty close
As TRNSMT continues its quest to become heir-apparent to the infamous T in the Park, having Pulp – on the only Scottish date of their reunion tour (so far) – as a headliner is a huge get. But it's also a slightly confusing choice. A glance across the rest of the weekend shows that the acts are heavily skewed to a young audience. A run of Niall Horan, George Ezra and then Pulp is a confounding move, but here we are.
The early part of the day provides some of the rockier material, with Declan Welsh and the Decadent West providing some alt-rock licks, cut midway by a furious rant about the mistreatment of Palestinians from Welsh, touching on Nelson Mandela's ties to Glasgow and the need for collective action. Despite being read off a phone, it's powerfully well-directed fury that is hilariously juxtaposed by their next song: a schmaltzy yacht-rock groover that sees Welsh cutting his best moves.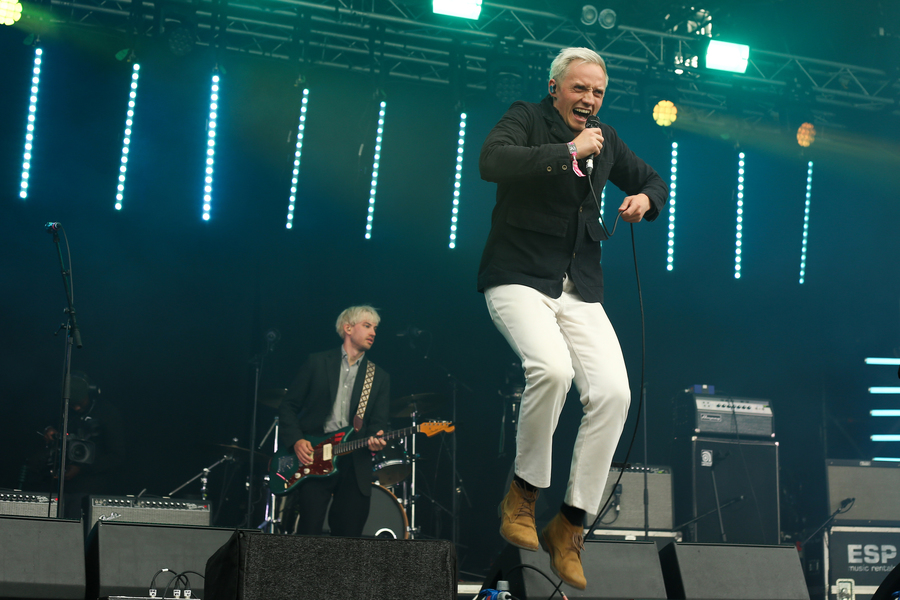 Hamish Hawk on stage at TRNSMT 2023. Photo: Roosa Päivänsalo
Elsewhere, The Joy Hotel provide some noodly psych-rock goodness, stretching out Jeremiah beyond all reasonable lengths in service of the funk. Joesef is his usual dapper self back on the main stage, crooning breezily as the sun emerges for the first time.
Hamish Hawk (pictured) delivers an absolutely brilliant set, not much of a surprise given his brilliant recent album, Angel Numbers, but seeing something so perfectly executed at 2.30pm on a second stage is criminal. It's like Niles Crane fronting The Smiths, or even an affable Klaus Kinski, as Hawk fritters about the stage, his manic presence at complete odds with his smooth vocals. The Mauritanian Doubles Badminton Champion, 1973 is a particular highlight, before Caterpillar closes the short set masterfully with some guitar theatrics from Andrew Pearson.
The View achieve a rare unity in the mostly divided crowd, being nostalgic enough for the 30+ crowd, but with enough scrappy chant-alongs for the youngsters. Same Jeans is the weekend's first mass singalong, though short shrift is given to any attempts to plug the new album.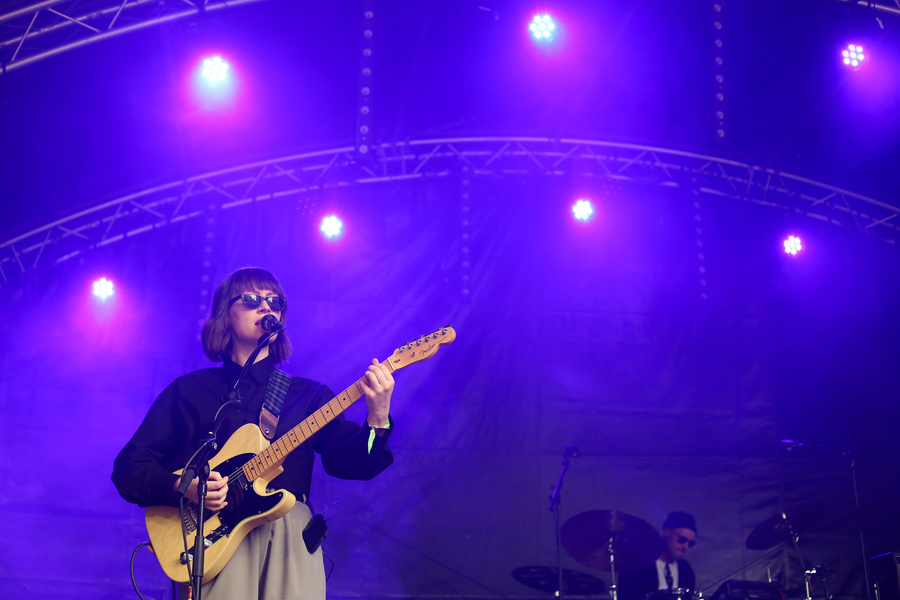 Cloth at TRNSMT 2023. Photo: Roosa Päivänsalo
Cloth deliver a nice set down by the river, but struggle to draw the punters from Paul Heaton who delivers a glorious best-of set, ably assisted by Rianne Downey in place of Jacqui Abbott. Perfect 10, Rotterdam and Don't Marry Her set the nostalgia factor high, but it's Happy Hour that really gets the crowd going (by the "original '80s boyband, The Housemartins," quips Heaton as we're told to let Niall Horan know).
Warmduscher are probably the weekend's sleaziest act, and Clams Baker Jr. and co. don't disappoint – whipping the crowd into a frenzy with their lithe, funk-laden garage rock. Though it does reach a fever pitch during Burner and someone takes a tumble in the pit. "Kool Keith will do that to you..." Baker jokes in the ensuing pause, though his concern is genuine. While George Ezra continues the radio-friendly sing-a-longs that Niall Horan began, Disco Tits are bringing the rave over at The Boogie Bar. The place is strewn with litter and over-exerted teenagers which, along with the heavier police presence, give it a distinctly dystopian feel. Can't argue with the tunes, though. Nati Dreddd has an ear for a pop-tastic melody that easily wins over the curious onlookers down at the River stage; definitely one to watch in the future, the interpolation of Horny '98 only helping matters.
And finally, it's time for Pulp. I-Spy opens the set, the song beginning before the plush red curtain is pulled back to reveal an MGM-era light-up stairway, with a podium at the top from which Jarvis Cocker will oversee proceedings (even from an armchair later in the set). There's little time to settle in as Disco 2000 is next, complete with an explosion of streamers, cementing the party atmosphere that this set maintains throughout, even on more subdued songs like the pair of Weeds or Something Changed.

Pulp at TRNSMT. Photo: Roosa Päivänsalo
Cocker is as irreverent and blasé as you'd expect, claiming the band have never been this far north and having us sing Happy Birthday to Ringo Starr. But if anyone thought that ten years away from his most successful outfit had dulled Cocker's talents, then his constant gyrations and arch, pitch-perfect delivery would say otherwise. It's classics all the way, with Sorted for E's and Wizz leading into This is Hardcore – the string section doing double time as '90s ravers for the former and then providing the beautiful flourishes for the latter – as Cocker descends into the crowd with his cassette player. Do You Remember the First Time? and Babies are ecstatic delights before Sunrise closes the main set.
Like a director at his premiere, Cocker sheepishly re-emerges from behind the faux-velvet to read Alasdair Gray's poem, For Tom Leonard, before we're treated to the deepest cut of the night, Like a Friend. Underwear is as wonderfully lurid as always, but the sense of what's about to come is palpable. Cocker clearly notices this, asking "That's it, isn't it? We haven't forgotten any?" as the audience greedily clamour for Common People. It's duly delivered, stretched out with band introductions and extended shout-a-longs, in a haze of thrown drinks and group hugs. It's everything you could hope for, and for the first time tonight even Jarvis seems superfluous to the tumult.
This opening day of TRNSMT just about delivers that rarest thing that every festival claims to have: something for everyone. It's well organised and marshalled, plenty of food and toilets and hardly any queues if you avoid the most obvious places. Along with the decent weather, it's a stellar day of entertainment. If the promoters can replicate this day's lineup in the future then they're onto a winner.