A Fundraiser for Tiny Changes @ St Luke's, Glasgow, 28 Nov
The Twilight Sad, Uninvited and Carla J. Easton are among tonight's Fundraiser for Tiny Changes line-up, an evening of warmth and entertainment in aid of helping young minds feel better
'While I'm alive, I'll make tiny changes to Earth.' Scott Hutchison's resounding words have been belted out by Frightened Rabbit fans at shows all over the world, and, like so many of their lyrics, have brought solace to people struggling with their mental health. It's ultimately those words that find us gathered together on a freezing Sunday night in Glasgow for the Tiny Changes Fundraiser, in the month that would have marked Scott's 40th birthday. 
Scott Hutchison – son, brother, friend and lead singer of Frightened Rabbit – died in May 2018. In the wake of that unimaginable tragedy, the Hutchison family decided that they needed to do something that would continue Scott's legacy and use his voice to make a difference – to keep making tiny changes to Earth.
The Tiny Changes charity was founded by the Hutchison family in 2019 and has been growing ever since. They aim to "help young minds feel better", driven by the belief that every young person has the right to good mental health that will help them go on to live happy and fulfilled lives. In October 2021, they launched the Make Tiny Changes Fund, a national small grants programme that helps new and established projects that support the mental wellbeing of children and young people across Scotland.
Two years on from its foundation, Tiny Changes is a thriving community of "tiny change makers", sharing research, knowledge and stories, and connecting people through events and social media. Its approach is one of listening – to experts in the field, to people working in the community, and to young people themselves – to discover where the biggest difference can be made. Nights like this one are not just vital to raise funds so that Tiny Changes can continue their fantastic work – they are also a beautiful reminder of Scott's enduring legacy. Standing in the room at Saint Luke's, you can feel the love and respect for Scott and his art, the sense of community that he built, and his invaluable honesty and that which he inspired in others. 
Coming in from the cold to the quaint, converted parish church MC'd by comedian Paul Black feels more like arriving at a family gathering than a gig. The night is an outstanding showcase of Scottish artists, featuring a raucous set from Glasgow indie-rock four-piece Uninvited, entrancing music from Scotland's "synth-pop queen" Carla J. Easton and her band, and a slick and atmospheric performance from alt-rock trio Cloth. 
It isn't all about the music, though: there's also comedy from pharmacist-turned-comedian Lubna Kerr, a set full of 80s hits from the Pretty Ugly DJs, a very fruitful raffle, and a short film documenting the impact of some of Tiny Changes' impactful work.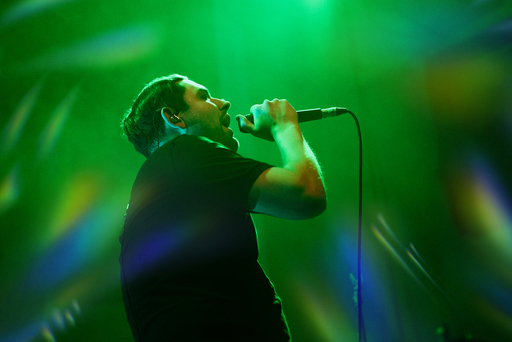 Image: The Twilight Sad @ St Luke's, Glasgow, 28 Nov by Diana Dumitrescu
Headliners The Twilight Sad close the night with a mostly stripped-back set from core members James Graham and Andy MacFarlane. Graham has that rare voice that captivates an entire audience even when the song is unfamiliar; every eye is on him as he feels every word and every note. The duo play as many Frightened Rabbit songs as they do their own – as though to say 'tonight is not about us' – delighting the crowd with their interpretations of Be Less Rude and Fast Blood. Their rendition of Set You Free (originally by N-Trance, covered by Frightened Rabbit on the B-side of Head Rolls Off) goes down so well that they play it twice.
After a final thank you and goodnight, Frightened Rabbit come on the sound system with Head Rolls Off, the song which contains the lyrics 'I'll make tiny changes to Earth'. It's a powerful end to the evening – hearing Scott's voice sing his own eternal words makes his absence starker than ever. But there is joy too, and an undeniable sense that Scott's words were true in life, and continue to be true. As Scott put it best: 'When it's all gone, something carries on.'
---
Donate to Tiny Changes via JustGiving here