The Van T's @ King Tut's, Glasgow, 25 Jan
Tonight's line-up at King Tut's is full of skill and creativity, and shows that The Van T's are fast becoming an accomplished and irresistible live act
The last night of this year's King Tut's New Year's Revolution series features an excellent line-up of some of Scotland's best rising acts, and it's a diverse showcase of original and talented performers. The first act of the evening, Dunfermline's Oskar Braves energise the crowd with their confident guitar sound and David Stevens' powerful vocals. Stop Me is frenzied and urgent, while new single Follow is shimmering and expansive.
Local four-piece FREAKWAVE's grungy indie rock is particularly prevalent on their song STD. Summer Skye's vocals are mesmerising throughout the band's hazy set, bathed in red lighting. The highlight, however, comes from an inspired cover of Pure Imagination from Willy Wonka & the Chocolate Factory, reimagined as a sultry, slow jam.
Edinburgh's Medicine Cabinet, a thrillingly androgynous ensemble complete with leopard print coats, dangling earrings and glitter, are both musically and visually striking. Anna Acquroff, the band's 19-year-old frontwoman, has the charisma to be a potential future creative force, her sweet vocals perfectly suited to their quirky brand of glam rock.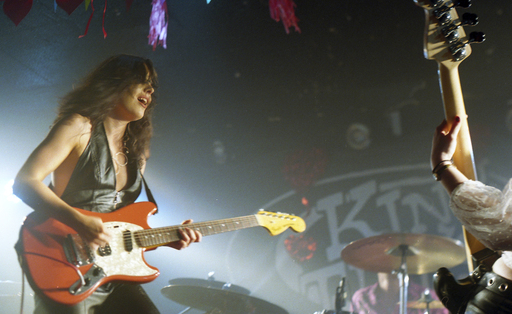 Image: The Van T's @ King Tut's, Glasgow, 25 Jan by Marilena Vlachopoulou 
Made up of twin sisters Hannah and Chloe Van Thompson, Joanne Forbes and Shaun Hood, The Van T's put on a confident display in glitter and PVC, opening their set with Suis-Je Cool?, a vibrant and defiant song about struggling to fit in. The rest of their set is filled with effortless harmonies and interaction with the crowd, while Blood Orange receives the biggest reaction.
King Tut's have provided an inspiring line-up tonight, one that's full of skill and creativity, showing that The Van T's are fast becoming an accomplished and irresistible live act. An excellent start to anyone's year of live music.