The Twilight Sad @ Usher Hall, Edinburgh, 30 Nov
Everyone seems to appreciate what a special moment this is for The Twilight Sad tonight, and none moreso than vocalist James Graham
Tonight's show is the biggest headline performance ever by The Twilight Sad. And, despite a few empty seats, Usher Hall has the fizzling atmosphere of a sellout from some up'n'comer, rather than a group of stalwart pros with more than a decade's worth of albums and tours behind them. Everyone seems to appreciate what a special moment this is, and none moreso than vocalist James Graham.
From the opening synth-rush of [10 Good Reasons for Modern Drugs] he barely takes a moment to stop (apart from occasionally collapsing), twirling around the stage, punching the air and howling to the moon when songs reach their exultant highs (especially VTr, Last January and The Wrong Car). The rest of the band work in perfect unison to lay down the sonic canvas upon which Graham can artfully splatter his torment, joy and ultimate catharsis.
Before That Summer, At Home I Had Become the Invisible Boy, Graham mentions playing the song at Bannerman's back in 2007, then takes in the ornate room full of adoring fans. It's an early lump-in-the-throat moment that is revisited with visceral emotion during Cold Days from the Birdhouse.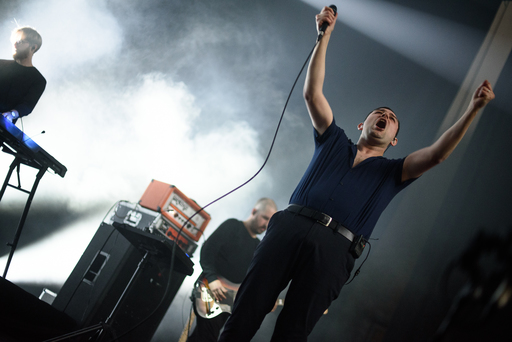 However, the devastating epicentre of the night can only belong to the cover of Frightened Rabbit's Keep Yourself Warm. A staple in the Sad set for a while now, its resonance has only grown over time, the love and hope in its delivery now outweighing the overwhelming sadness that accompanied it last year. "To be in a room like this... with so many people who love him like we do..." Graham stutters, choking back visible tears.
And She Would Darken the Memory closes the night with a flurry of flashing lights and a feral breakdown that pushes Sebastien Schultz's drumkit almost over the edge. Static and reverb envelop the room as Graham lies prostrate on the stage, the crowd manic in their appreciation. Physically and emotionally drained, he rises and has to drag himself away. A raised, shaking fist is the last sign of The Twilight Sad's triumph and resilience.
---
"Heartbreaking and heartwarming..." - read our Scottish Album of the Year write-up on The Twilight Sad's It Won/t Be Like This All the Time