Great Danes: SPOT Festival 2019 report
Sometimes you have to get lost to find what you're looking for, and at Denmark's SPOT Festival getting lost leads us to some pretty great moments
Described as a 'music city', music is quite literally dancing on the wind as we arrive in Aarhus, Denmark's second largest city, for SPOT Festival. It feels both exciting and overwhelming – those overarching feelings stay with us throughout our time here.
Celebrating its 25th anniversary this year, and with its focus firmly on showcasing up-and-coming Danish and Scandinavian acts, since 1994 SPOT has been responsible for helping local artists launch their career to a wider audience. Everyone from Sigur Rós to MØ, The Raveonettes to Múm, and Efterklang to Iceage have played SPOT over the years.
It's no secret that there's no shortage of talent to be found in the Nordic countries: Björk, Robyn, The Knife (and Fever Ray), First Aid Kit, Abba (!!), and the aforementioned Efterklang, Sigur Rós and MØ, as well as the more recent success story that is Sigrid, all instantly spring to mind. Hell, one of the world's most successful songwriters and producers, Max Martin, is Swedish, responsible for writing some of the biggest pop bangers on the planet such as Britney Spears' ...Baby One More Time and The Backstreet Boys' I Want It That Way, as well as co-writing Taylor Swift's Blank Space, Katy Perry's I Kissed a Girl and The Weeknd's I Can't Feel My Face. And that's just the tip of the iceberg.
Bearing all of this in mind, we're determined to discover the next big thing at this year's SPOT so go off on a Friday night adventure and, in hindsight, we stupidly get lost and regret not just going to see Efterklang. All is not lost though, as while the snow flutters gently down outside in May (!!), we find ourselves in the presence of Norway's Hanne Mjøeln, who's like an EDM hybrid of CHVRCHES and Sigrid. She's got bags of energy, her band are solid and the light show is incredibly powerful. With a few tweaks here and there, and less focus on her vocal backing track, Mjøeln could definitely be on to something.
Over the course of the weekend other standouts come in the form of Norway's Iris, who's all staredowns, jerky dance moves and stunning vocals, as well as Sweden's Linn Koch-Emmery, a serious talent fronting the guitar band we've been searching for all weekend. Her last three songs are insanely catchy and played with an undying passion, making us sad we missed the rest of her set. The live band metal silent disco we witness outside Musikhuset, which brings together all Aarhus metalheads (plus one Aaron Carter lookalike) is also a sight to behold.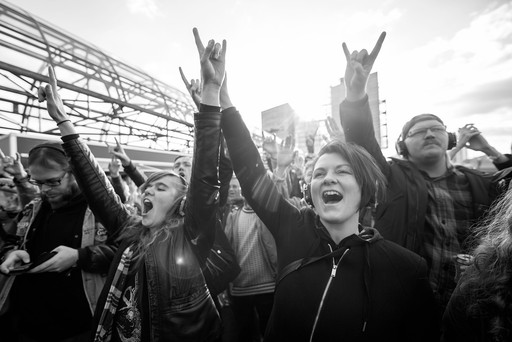 Image: Metal Silent Disco at SPOT Festival by Morten Rygaard
Top of the SPOTs: nøia, HansSOLO, Ravi Kuma
With around 200 artists performing across an insane number of impressively-kitted out venues – the musical infrastructure in place in Aarhus is nothing short of envy-inducing – and with a lot of sets being quite short, it's easy to miss things or not always get the full picture. Venues like Godsbanen and Musikhuset house several performance spaces within them, so when we finally find Remisen we've missed maybe one or two songs from Danish duo nøia, but what we do see is enough to grab our attention and we're glad we finally found them.
Hailing from Tørring, the duo of Emma Elisabeth Hansen and Johanne Thorup Jacobsen are the first Danish act we catch that truly excites us; a mix of samples, bubbling electronica, live drumming and a cordless electric drill solo (yes, you read that right) from Jacobsen, their set is so intense that as she prowls the front row of the crowd we're caught in her magnetism. The pair shapeshift, switching instruments between songs, and Jacobsen ends the set stood atop her drum kit providing a fitting conclusion to an exuberant performance.
We end our Friday with an uplifting hip-hop show from Hartford, Connecticut's Jaden Castro and Aarhus DJ and producer HansSOLO, real name Hans Hornbek, who has already worked with the likes of Joey Bada$$. After years of collaborating online, watching Castro and HansSOLO perform together live, their energy is infectious and the pair work together effortlessly, Castro's slick flow – 'I'm a motherfucking cowboy / Like Draco Malfoy' – floating over Hornbek's beats like they've been doing this together for years.
A performance full of surprises, two thirds of local hip-hop group Athletic Progression join them onstage; Justo Gambula's bass brings the funk and adds some extra depth to their overall sound, much to the delight of the Aarhus crowd. "I've got another fucking surprise," Castro later announces, welcoming Copenhagen rapper Felix De Luca to the stage. Castro clunkily recites some Danish to the crowd that he's just learnt from someone in the front row and everyone loses their shit, pogoing all over the place, and it's clear he's a hit with the locals. It's a masterclass of the highest order in audience interaction.
Saturday's first call is Josephin Bovién, and her early set time has an impressive crowd gathered for her dripping-in-syrup brand of R'n'B. Her band, which also features Athletic Progression's Gambula on bass, are an impressively tight unit with sugary backing vocals and drum rhythms so complicated at points it's almost impossible to get your head around them. To top it off, Bovién's voice is rich and velvety soft, and the whole set washes over us like a hazy daydream.
The complete antithesis to Bovién comes in the form of rambunctious rap duo Ravi Kuma: "Oh, you know this one", charismatic frontwoman Sharon Kumaraswamy yells as the beats kick in on Staring At My Dick, a more than humorous and cutting confrontation of all the oglers in the world, marking the midpoint of a set that is hands down our SPOT highlight.
Kumaraswamy later states that she'll never be able to "afford a Starbucks or a beautiful rooftop office", but pointing to producer and bandmate Aske Knudsen she screams, "But I've got this beautiful motherfucker right here, this is my motherfucking office and," pointing back at the packed room, "I've got a beautiful view right here!" Arms wave back and forth in time with Knudsen's heavy beats and the pair lose themselves on stage in an exhilarating, tongue-in-cheek hip-hop show that has the Aarhus Congress Center in constant motion. Describing themselves as "like a hot sauce; not for everyone", we want to slather everything we eat from now on in Ravi Kuma.
After seeing a lot of similar electronic pop acts throughout the course of our two days in Aarhus, our hearts and minds are longing for guitars. Overhearing a lot of chat about The Entrepreneurs, we suddenly find ourselves upping sticks and running ten minutes down back streets, up steep sets of stairs and to the upper echelons of the gargantuan Store Sal of Musikhuset to catch the last two or three songs from the Copenhagen band, and thankfully they do not disappoint.
With Mathias Bertelsen's Hamilton Leithauser-esque vocals, and the four-piece creating a wall of sound not dissimilar to The Walkmen, it's hard not to be impressed, even with the tiny amount of their set that we witness. And looking down from the top tier of the concert hall, it's comforting to see a big percentage of the audience up on their feet, unable to contain themselves.
The one thing that's prevalent, in fact, throughout our experience of SPOT is that Aarhus crowds love their music, and it's particularly thrilling to see so many obsessed with their homegrown bands. Witnessing a packed room, probably in excess of 1000 people, screaming lyrics to a song you've never heard before back at Copenhagen electronic R'n'B outfit CHINAH is one heck of a thing to witness, and one that perfectly sums up our experience in a neat three minutes. Well, that and the metal silent disco we stumbled upon earlier in the afternoon...
---
SPOT Festival took place in Aarhus, Denmark, 2-4 May

spotfestival.dk