The Ninth Wave @ Summerhall, Edinburgh, 31 Jan
A double dose of Glasgow bands, The Ninth Wave and Savage Mansion, elevate their debut albums for a knockout live show at Summerhall
What is it that elevates a live show above and beyond the recorded versions? Tonight two acts, both of whom delivered excellent long-awaited debut albums last year, set out to answer this question in different fashions.
In a black cowboy hat and T-shirt, former Poor Things main man Craig Angus leads Savage Mansion through half a dozen or so tracks from their debut Revision Ballads, a record whose oldest tracks were recorded almost five years ago. His trick seems to be nailing laidback tunes without ever getting sloppy; strumming, plucking and thrashing at his Gibson SG and conducting his five-piece backing band through woozy Pavement jangle pop, chunky grunge riffing and on the final track, a rollocking romp that builds from frantic piano chords to a stellar guitar wig out.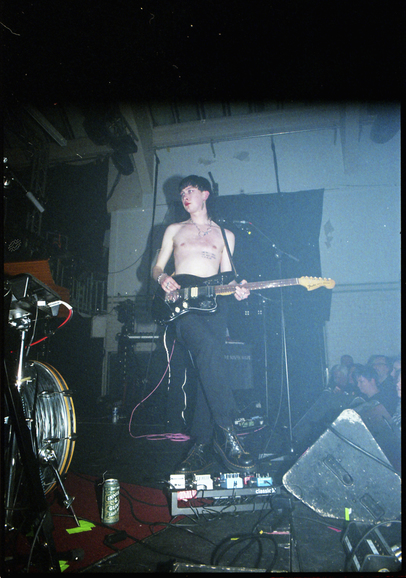 Image: The Ninth Wave @ Summerhall by Marilena Vlachopoulou
Our headliners tonight, The Ninth Wave, also delivered a debut with a long gestation, finally releasing Infancy in two six-song chunks before reassembling the final product in its 12-track form. Swaggering their way on stage, the quartet's cocksure glam-pop strives for the intersection of ambition and pretension, and seems to give few fucks for the moments where they stray over the line.
For the hour or so they're onstage, they seem determined to burn so brightly that they block out the outside world, though they can't resist dedicating one track on Brexit eve to "Scotland in the EU". Half Pure is a thunderous slice of Gary Numan-meets-U2 electro rock taking our consumerist society to task, while New Kind of Ego packs a gigantic football chant hook, with vocalist Hadyn Park-Patterson egging on a riotous dancefloor.
There's a welcome human side too with starring roles for each band member culminating in an impressive drum solo on album closer Flower Into Wounds. As the show comes to an end, guitar strap broken and his bandmates bashing away at their instruments behind him, Park-Patterson grins as he solos away on his knees. You don't get that from a stereo.
---
theninthwave.online
savagemansion.bandcamp.com