The Mountain Goats @ St Luke's, Glasgow, 18 Nov
John Darnielle and co's performance tonight is enough to rekindle the transformative power of art in the most cynical of souls
The Mountain Goats inspire a cultishly devoted fanbase, and their crowds don't boast too many who are new to the band. This is most clearly demonstrated by both Laura Cortese (support) and John Darnielle pointing out a gaggle of devotees in the front row that have been following them around the UK. It's also indicated by the ludicrously high percentage of people singing along to classics like You or Your Memory and Up the Wolves, but also newer cuts like In League With Dragons and Foreign Object.
But it's also evident in the reverent, rapt silence that each pre-song intro is given, the looks of wonder across the dedicated masses, and the amount of "finally completed a life goal" comments/tweets after the show.
With such a formidable and consistent back catalogue, each Mountain Goats show can't necessarily fit in everyone's favourite, but there's always a trail of easter eggs and personal recollections to make each one special. Tonight, we're treated to the rare appearance of two (!) 20+ year-old songs with Maize Stalk Drinking Blood and Going to Scotland, which Darnielle decided to dust off as he realised he's never played it here before.
The tidbits between songs are as far from the garbage banter of pop stars or the studied aloofness of your more pretentious indie stars as possible, with Darnielle revelling in his connection with the crowd and spinning delightful yarns on the power of A-Minor chords in goth-rock (Younger), regretful burn marks in desks (Cotton) and revenge fantasies (In League with Dragons, Foreign Object).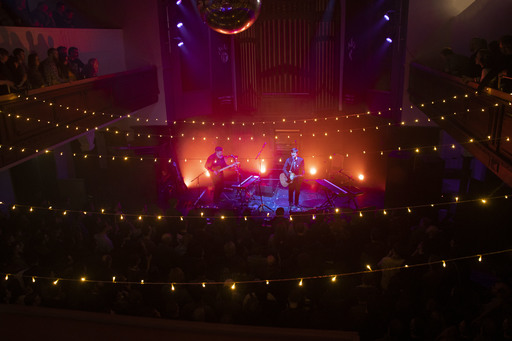 Image: The Mountain Goats @ St Luke's, Glasgow, 18 Nov by Serena Milesi
Laura Cortese & the Dance Cards return for a few songs before the encore, giving a more Americana edge to new songs like Doc Gooden and Sicilian Crest (and lighting up Darnielle's face at every fiddle flourish). Heel Turn 2 is immediately requested as tonight's duo (Darnielle and Matt Douglas) return for the encore, and they duly oblige, along with a fantastic explanation of pro-wrestling's gaudy attraction (hint: it appeals to baser instincts without all that morality weighing you down).
Darnielle gets up close and personal with the audience for No Children, belting out 'I hope you die! / I hope we all die!' with anarchic glee and a wry smirk. Both this and the closing song, This Year, need no introduction. They're both entrenched favourites of The Mountain Goats discography, but where No Children thrills in its give-no-fucks euphoria, This Year uplifts and reassures. It's a triumphant finale, banding the audience together with a communal sense of hopefulness and agency. It's enough to rekindle the transformative power of art in the most cynical of souls. Go see The Mountain Goats.