The Futureheads @ QMU, Glasgow, 14 Dec
It's good to have The Futureheads back revisiting their eponymous debut, but it's clear that the boys are more than capable of pushing forward
The Sunderland quartet are back on the road after a few years off, touring their debut record plus a handful more. Tonight's show sees them tread the boards at the QMU, the kind of dingy student union venue they took by storm at the height of their former career.
Support comes from Indoor Pets, whose drawling vocals and indie grunge sound owes a heavy debt to Weezer. The advisability of lifting so blatantly from an act whose recent releases have been quite so execrable may be questionable, but when they up the pace for a riotous final trio of tracks that channel Nirvana or Aussie rebels The Vines, they make a decent fist of things.
Our headliners find themselves in a curious spot. It can be a cruel and unforgiving world for an indie band who never quite made the leap to stardom. Your peers have built careers at arena level or matured into obsessive cult concerns, but even the cheques from Radio X are not so generous when your best-known track is a cover.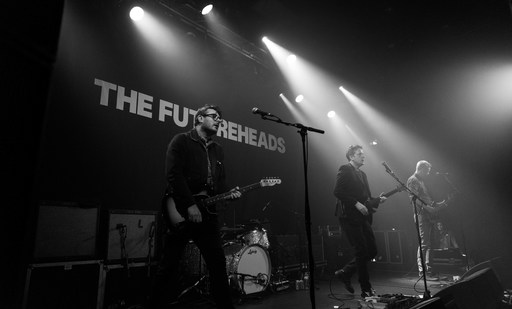 The Futureheads have pulled a clever trick though. Their final original record was 2012's mostly a capella curio Rant, but earlier this year they returned to the stage with Powers, a short, sharp, shock of an album that might just be their best work to date.
Sadly only a single track from that album is given an airing tonight but the same energy and spirit is still on show as the quartet rattle through their scrappy but likeable debut plus fan favourites like The Beginning of the Twist.
A to B – "a song about being lazy" – is dedicated to the 15.5 million people who didn't turn out to vote, while Decent Days and Nights shows off their skill at trading lead vocals. By the time their beloved cover of Hounds of Love comes around the audience are enthusiastically singing along but the four-piece manage to go one better with a brilliant reimagining of Richard Thompson's Beeswing, delivered in broad Tyne and Wear accents.
It's good to have them back to revisit the record that made their name but as the encore fades away, it's just as clear that the boys are more than capable of pushing forward.
---
Photo: Barbora Kruspanova