The Darkness @ O2 Academy, Glasgow, 15 Dec
Like many rock greats that came before them, The Darkness have created a few songs that will remain timeless, and tonight's live spectacle only adds to this bold statement
Christmas jumpers mix with leather jackets tonight in a packed O2 Academy as festive rockers gather to party hard with a band who were arguably, if just for a moment, the hottest band in the world once upon a time – The Darkness.
Supporting their latest album, Easter is Cancelled, the group take to the stage adorned all in white, all matching and looking like a million bucks (besides one backing musician/roadie, performing selected tracks behind the band in jeans and trainers, only slightly ruining the illusion).
From the opening Rock and Roll Deserves to Die, it becomes quickly obvious that both audience and band have come to rock out. Justin Hawkins appears onstage mid-song to rapturous applause, a natural frontman who instantly has the crowd in the palm of his hand: "Hi Glasgow, how you doing?" he asks. "You guys are fucking brilliant already, we're The Darkness."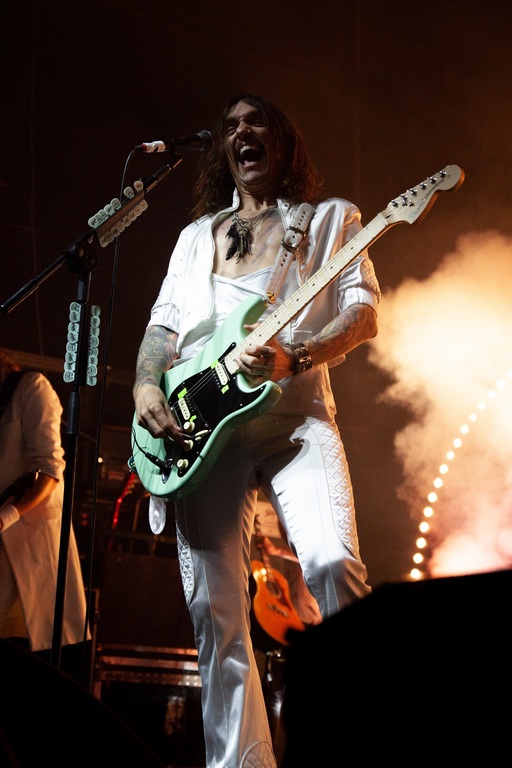 He announces that tonight the band will be playing two sets, the first of which being the new album in full, followed by a greatest hits of sorts. Opening a gig by playing a new album from from start to finish may seem like risky business, but everyone is into it, singing, dancing and jumping in the palm of Hawkins' hand.
Following their first set, the band exit, leaving the audience in the dark before returning for a set of fan favourites, costume change and all. Opening with One Way Ticket, a set of blistering classics follow, including an ear-splittingly rocking version of Radiohead's Street Spirit (Fade Out). Songs like Love Is Only a Feeling and Get Your Hands Off My Woman unglue the audience, reminding us all of the anthems these guys are capable of.
Finishing with a little festive cheer, Hawkins urges everyone in the audience to put their phones away and hold the hand of the person next to them. "It's Glasgow, what could go wrong," he demands, before sending everyone home happy with Christmas Time (Don't Let the Bells End).
For a band who shone brightest over a decade ago, The Darkness present themselves like rock royalty this evening and are, deservedly so, treated as such by their loyal fans. Like many rock greats that came before them, The Darkness have created a few songs that will remain timeless, and tonight's live spectacle only adds to this bold statement.