Swim School @ The Mash House, Edinburgh, 11 Dec
What better way to sign off your gig-going year than with a performance from a hotly tipped band of hometown heroes who are set for even bigger things in 2022?
Packed into The Mash House is what looks like a sold-out crowd awaiting Edinburgh's Swim School. They still don't have an album out, but their recent London show was to a packed house and this year's excellent making sense of it all EP has been winning them fans up and down the country. 
From the number of pairs of dungarees and psychedelic print shirts in the crowd you'd think Swim School were patchouli-scented hippy revivalists. Instead, flash forward a few decades to bands like Hole and L7, or perhaps modern superstars Wolf Alice and Beach House, and you'll have a better idea of what to expect.
Led by lead vocalist and guitarist Alice Johnson, there's an enormous energy to tonight's performance. Even before the quartet take the stage, the audience are dancing to Declan McKenna's British Bombs playing over the PA and breaking out into chants of "here we fucking go".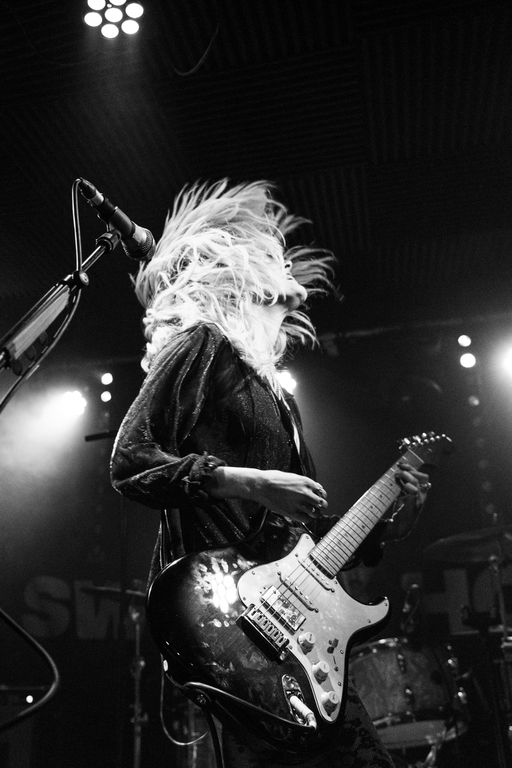 Image: Swim School @ The Mash House, Edinburgh by Kate Johnston
The band's best songs, like the assertive Outside – a track that Johnson has described as being about "the challenge of finding the strength to cut toxic people out of your life and putting yourself, your happiness and your mental state first" – go off like rockets, instantly connecting with their young audience. Johnson can't stop smiling as Anyway, a standout from their recent EP, gets a circle pit going, while a cover of Taylor Swift's Love Story makes speaker stacks shake.
Occasionally the reverb-heavy guitar can sound a little watery and distant, sapping some of the band's immutable energy, but the final two tracks really rock, with the audience chanting "Alice! Alice!" as she bounces on the tiny Mash House stage. Thanking the crowd for "the best show of their career," the band depart the stage in an ebullient mood. Coming on leaps and bounds with every release, they can make that "the best of their career" so far.