Supersonic Festival 2023: The Report
Marking 20 years of forward-thinking noise, Supersonic Festival returns in the same form as ever, as one of the UK's most exciting, necessary festivals
Something of an outlier when it first started in 2003, Supersonic Festival acted as one of the first truly boutique festivals of the kind that are so common now, catering to a highly specific audience of noise seekers, unconcerned with genre, vehemently DIY, and with a community that trusts the organisers to curate artists that, even if they know nothing about them until they walk on stage, will excite and challenge them. It remains after all this time a joy to behold.

Everything begins with Ex-Easter Island Head. A reliable mainstay of the underground scene that Supersonic so often draws from, I sometimes worry that they're loved in a way that's perilously close to a kind of novelty, with their 'laid-off scientist in his shed'-style homemade instruments, but they're just astonishing today. At their best, when their spiderwebs of interlocking rhythms coalesce they're a remarkable thing, spindly and clattering, but also incredibly warm, and when they peak they elevate into these anthemic barrages of emotionally wrenching noise. They're main challengers early doors are Ondata Rossa, a supergroup of underground mainstays, whose combination of vocalisations and knotty violin has a nightmarish, Jane Arden quality that's unlike anything else at the festival.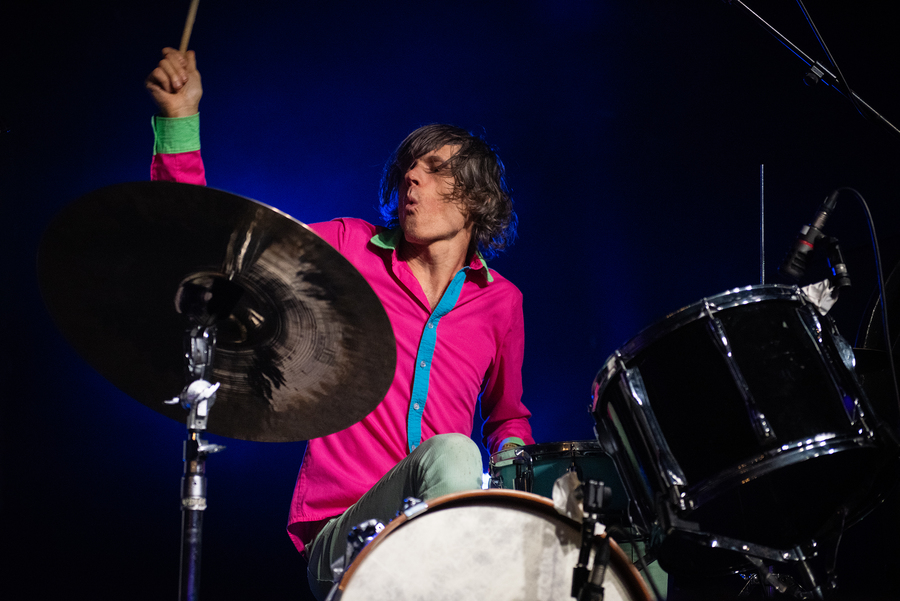 Image: Deerhoof @ Supersonic Festival, Birmingham, 1-3 Sep by Ewan Williamson
Friday night headliners, DIY legends Deerhoof are on typically strong form. In seemingly recalcitrant fashion amid the heaviness and noise of the rest of the festival they play a particularly buoyant set full of their specific kind of cacophonous sunshine pop. It's always a delight with Deerhoof to see such virtuosic talent commit itself to songs that are so often so sonically daft. A giddy, bouncing take on Paradise Girls and Twin Killers foregrounds Greg Saunier as one of the truly great drummers of the last couple of decades, while Momentary Art of Soul!, from this year's Miracle-Level, allows both guitarists to let rip in a coarse, hectoring groove that becomes trance-like, stuttering but completely consuming. It's a truly superb set.

Saturday starts more slowly, and it starts to occur that captivating, charismatic front-people are on pretty short supply thus far, bands leaning towards the head-down, concentrating, don't-interact-or-acknowledge-the audience side of the fence. It's all blown out of the water by Taqbir though, the Moroccan punks playing a fierce set of hardcore, with enough Bauhaus-esque, icy sheets of guitar thrown in to keep it sonically interesting. Their lead singer (they don't release their names, dealing with enough harassment as is) pings about the stage, a whirl of focused energy, snaking amidst the flurry of a rhythm section. 
There's a couple of unfortunate late drop-outs over the weekend with one thing or another, be it COVID or visa issues stemming from the Tory government's ongoing war on movement, cross cultural exchange or any sort of human joy. This takes a trio of the most exciting faces at the festival, out of the equation, namely MC Yallah, Matana Roberts and Širom, and leaves the weekend looking more skewed than usual to underground legends.

It's heartening then, that possibly the finest set of the weekend comes from the comparatively new on the scene Elvin Brandhi. In reality Brandhi's been putting out work for a decade, and is one of the most reliably forward-looking boundary pushers in the underground, and is fresh off the back of making one of the records of the year with Duma's Lord Spikeheart. She's on astonishing form, chopping samples into the most damaging sounds of the festival, a sound akin to SOPHIE's plasticity rendered nightmarish. What becomes even more remarkable than the manner in which she elasticates her vocal samples into digitised hellscapes, is her ability to belt and mangle it into such shape that it has a wayward danceability. A sublime performance.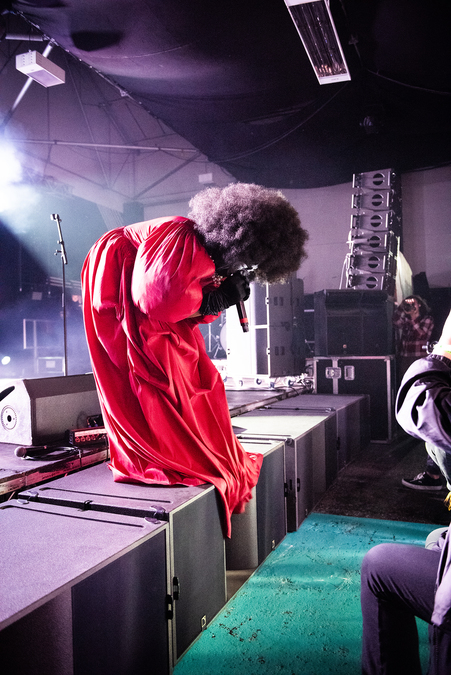 Image: Backxwash @ Supersonic Festival, Birmingham, 1-3 Sep by Ewan Williamson
Similarly, outshining even hometown heroes Godflesh's pummelling set, is Backxwash, making her European debut, and putting her flag in the ground as a magnetic performer, seizing the festival by the neck and making it her own. More than anywhere else there's a sense of entering an artist's world, there's clearly far and away more thought going into the back projections and outfits than anyone else who performs at the festival. It all contributes to the atmosphere her feral commitment to every bar cements, one in turns raging, cathartic and ultimately celebratory. There's a sense of an artist announcing themselves on a new stage, and converting a crowd into devotees in real time.
Sunday is a calmer affair, a visible relief to those nursing the after effects of Divide & Dissolve and Godflesh's sub-heavy sonic assaults. Jessica Moss is an early highlight. The beating heart of so many Godspeed and Silver Mt. Zion records, she plays a gorgeous meditative set of looped violin, still immaculately capable of marrying soothing and unsettling drones with the kind of lead line that can unlock regrets you didn't know you had whilst reassuring you it'll be alright in the same note. Shovel Dance Collective bring a similar unadorned beauty, bringing real heft and power to their folk narratives, working well to centre and contextualise them, intent on continuing the life of the songs, but still foregrounding the emotional intensity within them, aware that this carries better than any explanation could.
But it remains Lankum's day. The headliners, riding their overdue wave of acclaim and goodwill following this year's False Lankum, are on belting form. Bringing an oppressive, chest crushing weight to their re-interpretation of folk tradition, they're a group in perfect synchronicity, with a jazz-like sense of when one of the members needs to push and the rest should fall back. In particular, fiddle player Cormac MacDiarmada feels like a real secret weapon, vaulting between dub sub-bass accompaniment, and the kind of swooningly emotional lead parts that Warren Ellis made his own in Dirty Three. But it's the opener and closers, The Wild Rover and Go Dig My Grave respectively, where Radie Peat's voice takes centre stage, and the band are at their best. It's an astonishing thing, her voice; stark and brittle, but slyly powerful, shepherding the full droning behemoth that both songs grow into, allowing the full, lived-in intensity they need.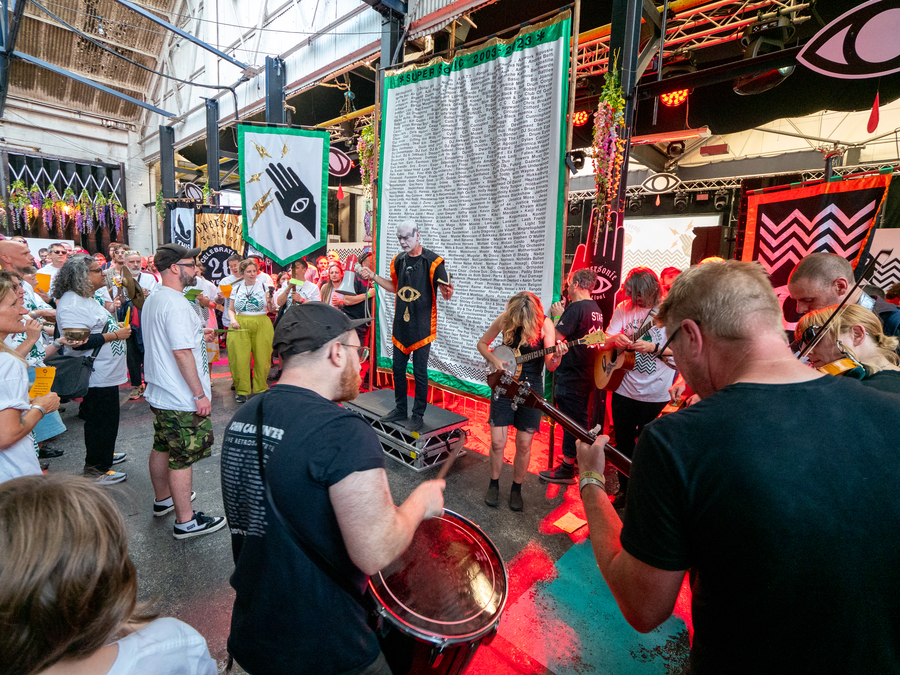 Image: Supersonic Mass @ Supersonic Festival, Birmingham, 1-3 Sep by John Convery
On the Sunday afternoon there's a 'Supersonic Mass' to mark the anniversary, part Pagan ritual, part local precinct ribbon cutting that ends with an unveiling of a spectacular banner, listing every artist that has played the festival in its 20 years. It is a truly remarkable list of names, from LCD Soundsystem and Kim Gordon to Max Tundra and Hype Williams. It shows not just the sonic breadth that Supersonic brings to the table, but, with how many people played early shows here before going on to be wildly influential, their eye for talent. You get the sense they've given a few people their new favourite artist over the weekend. A truly vital festival, long may it continue.
---
Supersonic Festival took place in Birmingham, 1-3 Sep