Sleater-Kinney @ Barrowlands, Glasgow, 28 Feb
Sleater-Kinney bring a dollop of barely controlled chaos to Barrowlands, showing why they're one of the greatest bands of the last 25 years
Musical chameleon Katie Harkin steps back into the limelight with her new solo project Harkin, after periods playing with Courtney Barnett and Wild Beasts. She hasn't lost her eye for finding the universal in the mundane (Nothing the Night Can't Change, Decade) or a guitar line lifted straight from Johnny Marr's 80s heyday, ironing out some of the rougher edges of her former band Sky Larkin, and giving a tantalising glimpse of her forthcoming solo debut.
Sleater-Kinney waste no time getting into the rawk theatrics that've made them one of the most formidable outfits of the last 25 years, with Corin Tucker's pitch-perfect wails expertly complemented by Carrie Brownstein's jumps, scissor kicks and Breakfast Club shuffles – not to mention her continuously shredding guitar.
The whole of last year's The Center Won't Hold gets an airing (apart from Restless), showing how the band have started to texture their signature sound with synth beats and electronics (Reach Out, Can I Go On). This is a trend reinforced by the disco-romping cover of Laura Branigan's 80s hit Gloria.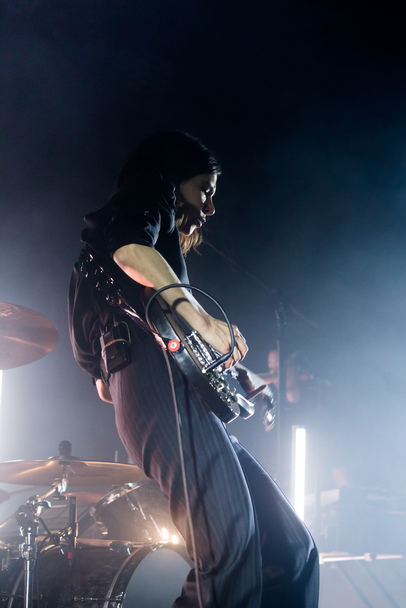 Image: Sleater-Kinney at Barrowlands, Glasgow, 28 Feb by Kat Gollock
But, for the most part, the show is simply a masterclass in perfectly executed rock music, peppered with moments of punk, hardcore and classics. Jumpers is the first song to really light a spark (though the opening few did hit hard), then Start Together and What's Mine Is Yours keep it high octane with punishing riffs and vocals that are never far from the precipice. New touring members Angie Boylan (drums), Toko Yasuda (keys) and Katie Harkin (various) keep it interesting, never letting things settle into just a blistering rock show.
The Dog/The Body segues into Entertain for an awesomely ecstatic main set closer, managing to up the intensity in a way that seemed impossible given that everything up to this point was already dialled well past 11. A delicate, piano-led Broken opens the encore before the oldest song of the night, Good Things, is played for the first time this tour, to the crowd's mad delight. After this, Brownstein starts giving an impassioned call for the protection and visibility of oppressed peoples in our divisive times... only to be interrupted by some arsehole shouting "play a song." It's an ugly moment, but Brownstein just replies that she's "not shutting up, I'm gonna talk for a fucking hour," which is met by one of the biggest cheers of the night.
The brilliant Modern Girl follows, along with the aforementioned Gloria and an unexpected Words and Guitar, before the very-much-expected Dig Me Out finishes the night. It's difficult to describe just how powerful and impressive this show is; Sleater-Kinney are basically the perfect rock band (even if Brownstein did forget the words to All Hands on the Bad One).
---