Slaughter Beach, Dog @ The Hug & Pint, Glasgow, 15 Jan
The Philadelphia four-piece delight a devoted crowd with a solid set of charming, mellow indie-rock ballads
Slaughter Beach, Dog is a name that raises many questions. And their songs don't offer many answers – new perspectives, characters and scenarios emerge all the time, brought vibrantly to life by Jake Ewald's warm, slightly goofy vocals. 
It was when he stepped away from his former outfit Modern Baseball that Ewald found his penchant for storytelling, experimenting with fiction and narrative voice to push through writer's block. Slaughter Beach, Dog offer a refreshing and easy sound, consistently chilled out despite its occasional undertones of anxiety and existential dread.
Tonight, it's almost 10pm by the time the band arrive on stage, following two support acts. The crowd reveals itself to be an almost cult-like following of the band, the majority singing along to every word. They open with the serene Heart Attack, taken from their 2019 album Safe and Also No Fear.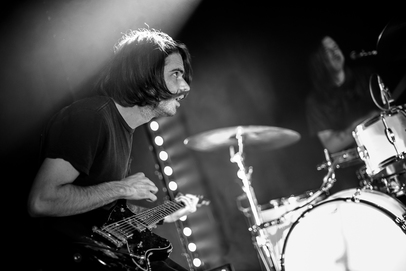 Image: Slaughter Beach, Dog live at The Hug & Pint, Glasgow, 15 Jan by Aimee Young
The band relax through the set, taking it only as seriously as the music demands. Occasionally, Ewald reaches an arm casually to the low ceiling, eyes flicking around the crowd; sometimes he closes his eyes as though to focus all his attention on singing. On the whole, it's an ordinary but thoroughly enjoyable performance, one that fits with their music: untroubled, down-to-earth, yet dotted with moments of remarkable charisma.
Moments on the new record feel a little vapid compared to their earlier work – one wonders how the same writer who penned the entrancing 104 Degrees ('Dull domestication, free from pressure to pursue / Another love, another touch, another tired conversation') could feel satisfied with the lyrics 'I'm waiting up for you to call me back'. But on the other hand, there's something beautifully sincere about their simplicity, and the pure, unadulterated joy of the crowd confirms their power.