Skinny Pelembe @ Sneaky Pete's, Edinburgh, 23 Oct
Skinny Pelembe dazzles a sold out Sneaky Pete's tonight, showing off his phenomenal vocal styles in an urgent, physical performance
From the moment the band push their way through the crowd and climb on stage, their chemistry is evident. The trio perform seamlessly as one: Skinny Pelembe on guitar and lead vocals; Chloe Beth Smith on keys, backing vocals, and a host of other bits; and Liam Hutton on drums 
Opening with 2017's Seven Year Curse, it becomes clear the priority tonight is the music. With the briefest nod towards the sound engineer, Pelembe's question, "we good?" makes up most of what the audience hears of his Doncaster accent throughout the show. Excluding thank yous and a brief band intro later on, Pelembe speaks almost exclusively through fast-paced lyrics and haunting melodies.
Show highlights include a handful of tracks taken from his latest album, Dreaming Is Dead Now, released earlier this year. The laid-back, head-nodding coolness on its title track is contrasted with his otherworldly choruses. No Blacks, No Dogs, No Irish comes later in the set. The power behind the eponymous lyrics, particularly when delivered in Pelembe's compelling, addictive, almost-emceeing style are shiver-inducing; most notably during its near-a capella ending, where you could have heard a pin drop in the room.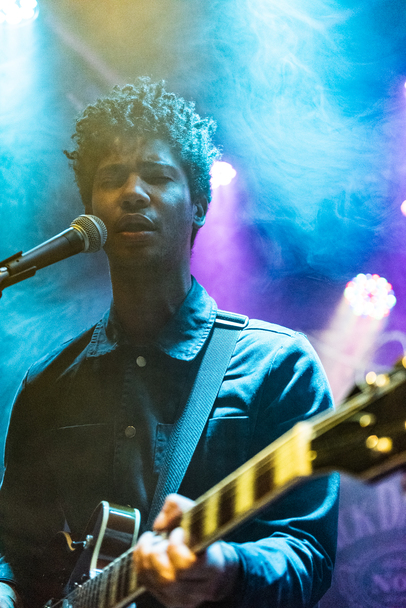 Image: Skinny Pelembe at Sneaky Pete's, Edinburgh, 23 Oct by Kate Johnston
The dubby My Love is Burning, Down shows off the stunning musicianship from all three performers. Hutton's drumming almost steals the show at points, and the evidently vital relationship between Smith and Pelembe – who barely break eye contact, and play as a duo – contributes to the trio feeling like a true band, rather than a solo artist performing with a backing duo.
At times Pelembe channels James Blake's purity, at others he's a hip-hop artist delivering political statements in his raw, rapid tone: "Now we're gonna talk about the bedroom tax?" If pushed, he's perhaps reminiscent at times of King Krule, with his yearning, emotive vocals – but really, Pelembe has carved out his own, distinct sound.
How Pelembe is able to transition through genre, accent, style, tempo and mood, whilst maintaining his carefully curated sound is remarkable. On stage this evening is a truly original artist, who is evidently driven wholly by his creativity.