Rufus Wainwright @ Kelvingrove Bandstand, 30 Jul
Even after three decades in show business, Rufus Wainwright knows how to bring down a house - or in this case, an outdoor bandstand with amphitheatre-style seating
A trip to a Rufus Wainwright show is like a night at the opera. A surprising number of audience members have come in dresses and suit jackets, the bowl-shaped bandstand seating lends a genteel atmosphere, and of course no night at the opera would be complete without its own diva.
Whether it's recording an entire album of Judy Garland covers at Carnegie Hall, plumbing the depths of crystal meth addiction or collaborating with everyone from Mark Ronson to the Pet Shop Boys, Rufus Wainwright has never done anything by halves and though this show is a solo affair, he's more than happy to take up the whole stage.
Dedicating his second track, This Love Affair, to Boris Johnson (key lyric: 'I don't know what I'm doing') is the first sign of his waspish demeanour. More importantly, though, his sense of humour is amply matched by his stunning voice, holding notes for days on Vibrate and revelling in the tension between lyrics about listening to Britney Spears and electroclash and his operatic delivery.
Fresh from taking his second opera, Hadrian, to Spain, tonight's show finds him officially finished with the tour for 2020's Unfollow the Rules, and it seems as if with less pressure to promote the new record, he's happy to turn in a crowd-pleasing set that takes in a wide selection of old favourites. Poses sees a lone couple waltzing down the front; the gorgeous lush melody of a purple-lit Cigarettes and Chocolate Milk encourages a few audience members to try to sing along, and the outrageous Gay Messiah shows that he's still quite the showman.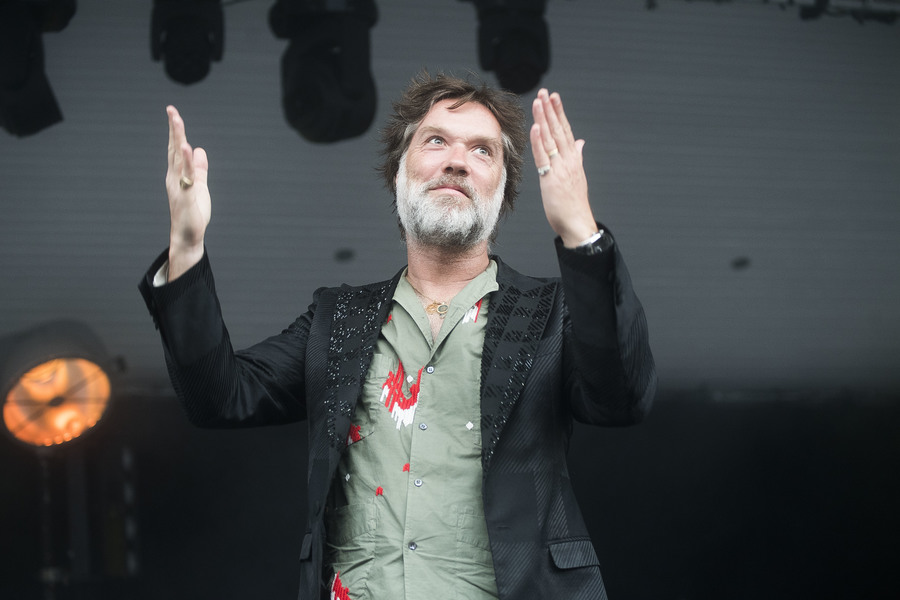 Image: Rufus Wainwright live at Kelvingrove Bandstand, Glasgow, 30 Jul by Stewart Fullerton
Amid jokes about monkeypox, the singer finds time to mark the influence of his famous family – legendary singer-songwriter parents Loudon Wainwright III and Kate McGarrigle, sister Martha Wainwright: "Martha's on the road at the moment, you should read her new book, I come off very well in it," he quips. More touchingly, though, he runs through My Little You, a ditty for his young daughter that made it onto his most recent record.
Dressed in ruby slippers, there's no way he can let the moment pass without marking the 100th anniversary of the birth of Judy Garland, though he does have to pause an a capella of Somewhere Over the Rainbow to encourage the Glaswegian audience to sound less like a football crowd.
As the crowd files out onto Kelvin Way, one audience member describes the closing cover of Leonard Cohen's Hallelujah – still his biggest hit thanks to its memorable appearance in Shrek – as a magical moment.
Though Wainwright is a talented pianist and a serviceable guitar player, it's that enormous cascading voice that people are paying for and there's no doubt that even after three decades in show business he knows how to bring down a house, or in this case an outdoor bandstand with amphitheatre-style seating. 
Rufus can get back to his opera house, everyone else can go home happy.