Roaming Roots Revue @ Old Fruitmarket, Glasgow, 27 Jan
Roddy Hart & The Lonesome Fire, accompanied by the likes of Lisa Hannigan, Craig Finn and Karine Polwart, offer a joyous if occasionally uninspiring tribute to Bruce Springsteen
Roddy Hart & his Wee Street Band (aka The Lonesome Fire) return to Celtic Connections with another enthusiastically crafted Roaming Roots Revue, now in its eighth year. Recently, Hart has celebrated the likes of Abbey Road (KT Tunstall in tow) and Tom Petty (with Pictish Trail and Richmond Fontaine's Willy Vlautin among other distinguished guests).
Last night at Glasgow's Royal Concert Hall, and tonight in the Old Fruitmarket, he, they and we pay tribute to Bruce Springsteen, a man who is somehow – despite what all the viral pictures of him jogging shirtless at the beach might suggest – 70 years old.
Hart is a considerate host to audience and performer alike. Each of his guests are welcomed to the stage to perform one of their own songs (ably accompanied by The Lonesome Fire) before returning to the stage later to cover Springsteen separately, and then as a united front, storming through the hits together. The likes of Dancing in the Dark and Born to Run are hits among hits of course. Springsteen's discography stretches far and wide back to 1973, and Hart's guests dig deep: Jackson Browne and Father John Misty collaborator Jonathan Wilson offering pleasant yet uninspiring versions of Highway Patrolman from Nebraska and Brilliant Disguise from Tunnel of Love.
Irish songwriter Lisa Hannigan – who released a magnificent live collaboration with s t a r g a z e last year – joins Hart and company for a gorgeous, simmering rendition of I'm On Fire, before elevating proceedings with a romantic run through Tougher Than the Rest. Her sublime, instantly discernible vocal may be familiar to fans of The National, after she took centre stage on I Am Easy To Find standout So Far So Fast. Three sterling solo records await those planning on looking her up later.
The majority of Hart's crowd appear to be on the older side, despite Springsteen's recent Netflix special – the bold, joyous and frequently moving masterclass in storytelling, Springsteen On Broadway – proving that he is far from the nostalgic figure singing of America's glory days who some still believe him to be. During his year-long Broadway run, Springsteen's empathy, tenderness, critical eye and drive hit as hard as they ever have on sparse, breathtaking solo renditions of My Father's House, The Ghost of Tom Joad (the most timely song to be sung this evening, chosen by award-winning Scottish singer-songwriter Karine Polwart) and Born in the USA – stripped to its bones as a sobering critique of war and exploitation.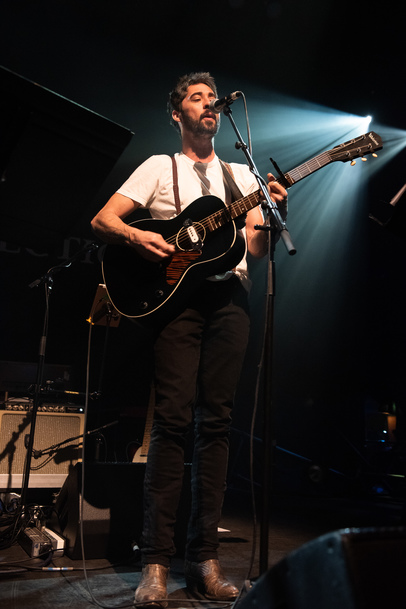 Image: Ryan Bingham live at Roaming Roots Revue by Allan Lewis
That isn't to say Springsteen hasn't inspired a lot of Americana that coasts by on emotion and nostalgia, which is – perhaps fittingly, in order to get a glimpse of the full picture – represented tonight. Los Angeles-based Ryan Bingham (recipient of an Academy Award, Golden Globe and a Grammy for his song The Weary Kind) walks on stage and quickly deploys a multitude of familiar lines ("I come from a really small town on the border of Texas… and there ain't a whole lot out there, y'know?") to bulldoze home the fact that he is super authentic. It feels like we're being sold a product, a product we've bought many times before. His approach to singing Streets of Philadelphia, which boasts one of Springsteen's most vulnerable, subtle vocal performances, is to turn the drama and the gruffness up about 20 notches.
Polwart steals the show early doors with a gorgeous rendition of her own song Ophelia, while The Hold Steady frontman Craig Finn joins The Lonesome Fire for Magic Marker, a cut from his fourth solo record I Need a New War. Finn then launches into a rousing rendition of Springsteen's Jungleland, showcasing both the prowess of Hart's band and Finn's palpable enthusiasm to be paying tribute to one of his heroes.
While a few of the acts on the bill tonight bring nothing more exciting to the table than you'd get from an accomplished covers band, Finn, Polwart and Hannigan are a joy to behold. They offer a gracious nod to Springsteen while making it clear (and effortlessly so) that they are each incredibly compelling artists in their own right. Hart sends us home in good spirits with a lovely take on Thunder Road – for those looking to revisit the night in some fashion, The Hold Steady covered Atlantic City back in 2009 for War Child.
---
This show was part of the Celtic Connections festival in Glasgow