Rip It Up Live! @ Music Hall, Aberdeen, 22 Sep
Despite the best efforts of all the musicians involved, Rip It Up Live!'s celebration of Scottish pop music doesn't always hit the mark
Any fan of Scottish music new and/or old would find it hard to pass on Rip It Up Live! The gig's line-up alone would be enough to draw you in, but to hear such an esteemed group of musicians performing a selection of classic and contemporary Scottish hits you rarely get the chance to hear live is even more of a draw.
It's a shame things fall rather flat tonight though, despite the best efforts of the guest musicians and the incredibly talented live band. The lack of any kind of atmosphere is not at all helped by the fact that the gig is entirely seated, and seated gigs rarely work.
The show is split into two halves. The first half is hosted by Scottish music's finest hypeman Vic Galloway, who introduces each musician ahead of their first performance of the night, while the second half runs straight through with no interruption. Some are good, some are great, and some don't quite work.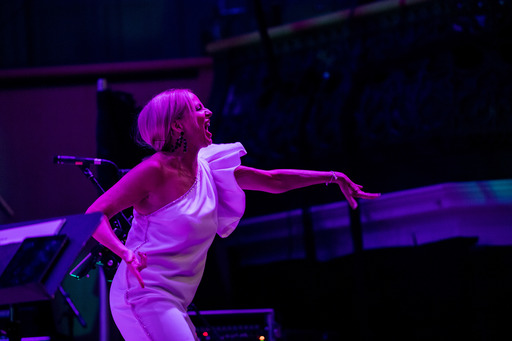 Image: Clare Grogan at Rip It Up Live! by Richard Frew Photography
A dedicated performer, Altered Images' Clare Grogan brings the most energy to both her performances – the first of Altered Images' I Could Be Happy and the second a cover of Edwyn Collins' A Girl Like You – despite barely being able to sing as she's lost her voice. However, that doesn't stop her from riling up the crowd and throwing some seriously odd yet undeniably hilarious dance moves onstage, truly putting her all into both her performances.
Aberdeen's very own Kathryn Joseph, too, stuns with both her performances. She lends her wonderfully weird and haunting vocals to covers of The Blue Nile's The Downtown Lights and Biffy Clyro's Many of Horror (When We Collide); both inspired decisions. The Rezillos' cover of Franz Ferdinand's Take Me Out also makes for enjoyable watching, despite a few lyric slips from Eugene Reynolds here and there.
A closing rendition of The Proclaimers' I'm Gonna Be (500 Miles) from all of tonight's act, onstage together, however, sends cringe levels through the roof. But it's the only moment tonight, at least, that has the whole crowd on their feet for a momentous singalong.