PUP @ The Garage, Glasgow, 26 Nov
Toronto pop-punks PUP ride the wave of their underrated 2019 album Morbid Stuff to The Garage for an energetic, and subtly political, show
A few songs into their opening set, Stavanger four-piece Sløtface tell the sold-out Garage crowd that bassist Lasse Lokøy was attacked on their last visit to Glasgow. It's told in good humour, but it's a disconcerting note to hit on amidst their bouncy pop-punk, and a sad indictment of how the city can still retain a reputation for violence.
The crowd tonight is much safer and welcoming, something this community of punks and emos is known for. It's touched upon a few times throughout the course of the night by both Sløtface and Toronto-based headliners PUP. Crowd surfers, from acts and audience alike, come and go – fun without event. Sløtface's Haley Shea comments that all moshpits should be 50 percent women, to raucous approval from the crowd, and PUP frontman Stefan Babcock makes sure to take a moment to ask that everyone is taking care of each other in the throng.
That's one of a number of class acts by PUP throughout the night. During songs, the majority of which come from this year's underrated Morbid Stuff, they're energetic, bordering on aggressive. It's the pull of their music – heavy tunes with a glint of pop, filled with self-loathing and sardonic wit. But between songs, they're friendly, humble and grateful.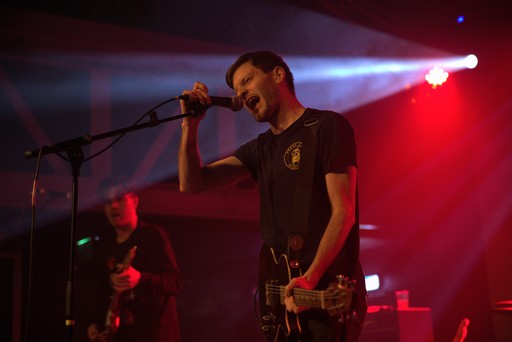 Two standout moments come between performances. Guitarist Steve Sladkowski urges those who haven't to register to vote (it's two hours until the deadline, ahead of the decisive and potentially historic general election on 12 Dec). "We know what it's like to look to the south of your country and not understand what the fuck is going on," he says to cheers, and chants reviling a particularly unpopular political party in these parts. "The difference is, you have some power to change what's going on down there."
He also points out the importance his band places on activism, and using the platform they have to do some good. At the merch stand, there's a donation box for Sea-Watch, an NGO working to save refugees making the treacherous journey across the Mediterranean. He encourages those who can to give. It's just a small example of bands from this scene, one that can be othered and denigrated, emphasising inclusivity and belonging. 
PUP are giving back too. Before the rollicking See You At Your Funeral, Babcock states: "Like most other pop songs, this is about being a miserable piece of shit." That in a nutshell is the intense appeal for fans here tonight, happy to soak up the sickly sweet scent of spilled vodka Red Bulls and moshpit sweat to sing along to every word of a band they love.