Priya Ragu @ The Garage, Glasgow, 6 May
In a short but sweet set, Priya Ragu's enticing command as a performer proves she is an artist to keep on your radar
Priya Ragu's set tonight is part of The Road to the Great Escape, a series of live music showcases across Glasgow and Dublin leading to the Brighton festival. Prior to her taking to the stage, Birmingham-based artist SIPHO. plays to the gathered crowd, his smooth melodic sound and emotive lyricism a tonic to the restless everyday.

Soon the crowd are drawn back to the stage as Priya Ragu's guitarist performs a stunning electric guitar solo, signalling that we are in for a treat. It's an intimate show and that makes it all the more special – "closer, closer", Ragu playfully sings to us to draw us in, until we're right at the front. 
It also acts as a neat segue into a rousing performance of Lockdown, where she sings: 'Don't leave me now / Come a little bit closer'. A particularly memorable moment comes as Ragu and her guitarist face each other on stage as the song reaches its final chorus, each vibing with the others' energy. Elsewhere, the intimacy of the night is highlighted as she performs Lighthouse, with the crowd singing back in a shared moment.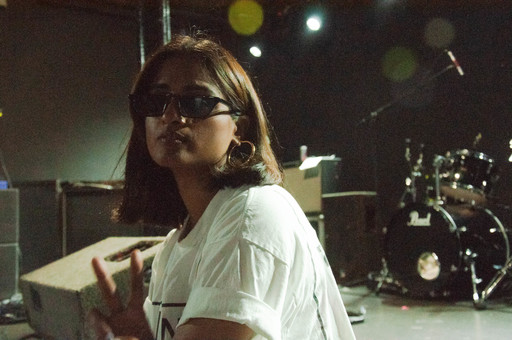 Image: Priya Ragu by Sandi Macdonald-Haig
Throughout the set, Ragu switches up the energy from chill, downtempo beats to energising danceable grooves, at times within the span of a single song. Her band are on point throughout too, adding fresh dimensions to her work. She ends with a rendition of fun, high-energy track Chicken Lemon Rice: 'If you feel the vibe sing-along, say yelelo', she sings. Ragu's genre-defying (self-labelled 'Raguwave') sound incorporates influences spanning her Tamil heritage to R'n'B – and it's affirming to witness her embody a sound uniquely her own onstage.
Like the acts preceding in the showcase tonight, Ragu's was a short but sweet set – but it's a noteworthy feat to have elicited so much energy from the crowd in the relatively short space of time allocated. Indeed, Ragu is just getting started – her enticing command as a performer tonight further demonstrates she's an artist on the rise, and one to keep firmly on your radar.