Primal Scream @ Barrowlands, Glasgow, 17 Dec
It might be shameless nostalgia from a band a little past their best, but when Primal Scream sound this good and you've got nearly 2000 new pals to sing along with, it's a hell of a good time
Despite the room being shockingly empty for The Illicits, the Barras is full to capacity when it's time for Primal Scream. Coming out to a ringing chorus of I Belong to Glasgow, the band play up to the adoring hometown crowd and immediately set the 'greatest hits' tone of the night with Don't Fight It, Feel It and Swastika Eyes.
Ostensibly supporting their new singles collection, Maximum Rock'n'Roll, the band focus heavily on the more hard rock elements of their sound, the psychedelia mostly relegated to the kaleidoscopic visuals and Bobby Gillespie's pink suit. The frontman is typically terse on the banter, but he's evidently having a blast as he swaggers around the stage, shakes his maracas and, unusually, smiles from ear to ear.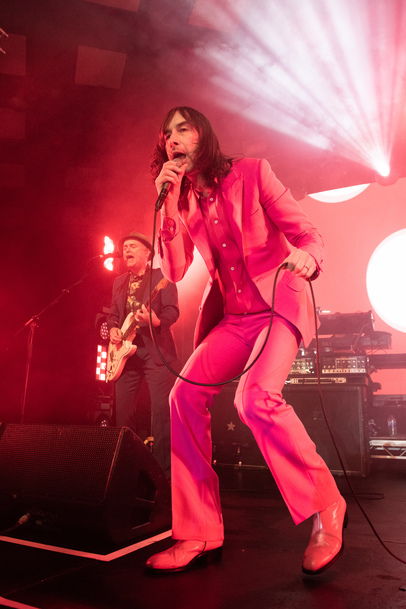 Image: Primal Scream live at Barrowlands, Glasgow, 17 Dec by Allan Lewis
Even more surprising is the appearance of founding member Jim Beattie (who left the band after their first album came out in 1987), who gives it some licks on Velocity Girl, the rarely seen Imperial and Dolls.
As we enter the final stretch the show really comes into its own, with Loaded and Movin' On Up getting the crowd moving as they relish their role as the gospel choir on the latter. Country Girl closes the main set in raucous fashion as the honkytonk breakdown gets an injection of guitar-shredding that melts away amidst the anticipated shouts of "Here we, here we..."
Come Together continues the work of Movin' On Up by uniting the crowd under a banner of peace, love and drunken dad-dancing before Jailbird and Rocks end the night on sturdier, classic rock terrain. It might be shameless nostalgia from a band a little past their best, but when they sound this good and you've got nearly 2000 new pals to sing along with, it's a hell of a good time.