Pixies @ Usher Hall, Edinburgh, 23 Sep
In a whirlwind set of classics and a little too much new material, Pixies prove they still have enough goodwill to allow them the occasional foray into indulgence
The school of thought employed by Pixies to build crowd rapport is a little different to most bands. It basically amounts to a combination of never talking to them, assuming they'll be cool with the entirety of your mediocre-at-best new album, and absolutely battering them with song after song. But, hey, whatever works. By the end of the night, the packed-to-the-rafters Usher Hall audience are giddy in their gleeful admiration of this legendary band.
The band have been mixing up their setlist each night of the tour so far, playing the same 25-or-so songs in a seemingly random order, while adding or omitting another dozen along the way. This is all achieved in just under two hours; there's barely a moment between songs, beyond the odd instrument change, with most of them following immediately one after the other.
The opening 20 minutes are probably the most abrasive, with a number of blitzy cuts from Come On Pilgrim and Surfer Rosa like Caribou, Something Against You and Vamos (complete with a reckless breakdown involving some flatcap antics from Joey Santiago), getting the pit moving and raising the intensity level of the room.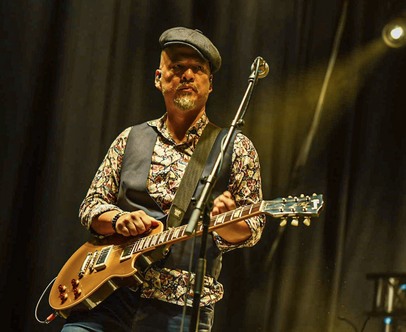 Image: Pixies by Calum Buchan
Here Comes Your Man kicks off a golden middle section that also includes Gouge Away, Wave of Mutilation, Monkey Gone to Heaven, culminating in an ethereal Where Is My Mind? The hits are punctuated with occasional dips into new material, which can leave a sour taste when placed alongside the delectable high points. However, there's always a Break My Body or Havalina to break up the also-rans – although the build up to the main set closers, Winterlong and Ed Is Dead, is particularly Beneath the Eyrie-heavy.
The band does finally stop for a moment – after an hour and 45 minutes – coming together at the front of the stage to give a few awkward bows, with Black Francis finally acknowledging the crowd as they go bananas in a frenzy of chanting and cheering. It actually seems like they're going to call it a day, but in the face of overwhelming crowd pressure they decide to strap themselves back in for one last song: Debaser. It's met with unabashed enthusiasm, the whole front of the audience moving as one giant, serpentine mass, screaming back the best surrealist nonsense this side of a Noel Fielding sketch.
There's a dogged (and wholly earned) stubbornness to this iteration of Pixies, and their spartan, no-frills approach. Despite a little self-sabotaging new material, the band still have enough goodwill to allow them the occasional foray into indulgence. And there's no need to pander when you can still belt out the yelps and licks on some of the best songs of the alt-indie canon.