Pip Blom @ The Caves, Edinburgh, 9 Oct
Pip Blom brings colour and noise to The Caves with a set designed to be danced to
Within the cavernous interior of Edinburgh's The Caves, the formidable stage is dressed tonight with two fluorescent pink flamingos. It's a full house for Amsterdam based four-piece Pip Blom, who rose to significance following their acclaimed debut album Boat, released earlier this year. 
Pip Blom's songs are concise, noisy and boisterous; the romantic and sometimes sorrowful lyrics shrouded in thrashing guitar noise and grungy reverb, with an unpolished, staticky sound that brings to mind Sonic Youth. Pip's youthful yet assertive vocals shine through the instrumentation, and jumping between singing and almost talking is a little reminiscent of Courtney Barnett. The band power through the tracks until their abrupt endings, and then move quickly on to the next, giving the set a slightly anxious energy. The rocking, impatient Hours is a highlight with its slick, syncopated drums, Pip is deadpan as she warns 'There is no way to escape / You need to participate / 'Cause there is no way to slow down the hours'.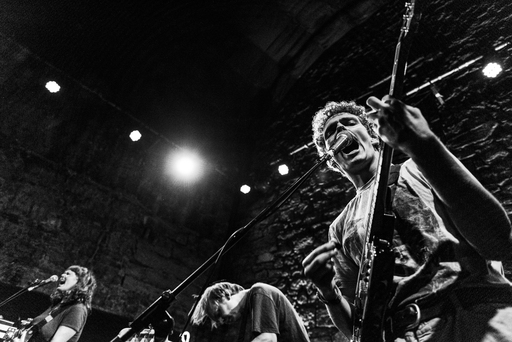 Image: Pip Blom live at The Caves, Edinburgh, 9 Oct by Kate Johnston
Though certain tracks on Boat have softer, more atmospheric moments, the setlist tonight selects the loudest and most grungy. The result is that the songs can be slightly indistinguishable and the gig is a bit of a whirlwind, maintaining a consistent, extremely high energy throughout. As the set warms up, the front of the crowd is getting rowdy, and watching the ferocious dancing and pushing only intensifies the energy of the music. The band interacts very little with the audience, preferring to focus on the music and to not break the spell – though they seem quite delighted by the chaos unfolding in front of them.
With thanks and a wave, the band leave the stage. And though the crowd cheer and shout enthusiastically for more, the band don't return for an encore and we have to settle for meeting them at the merch stand, where we find them selling custom-made bucket hats.