Peter Hook and the Light @ The Queen's Hall, Edinburgh, 19 Sep
A run through of New Order's Technique and Republic, plus a slew of Joy Division and New Order classics make for an enjoyable evening
The atmosphere in The Queen's Hall is been set perfectly by the stunning lighting which hangs above the stage. Electric blue strips move across each side, cutting a triangle through the smoke, thinly veiling a red backdrop. As the house lights are brought down to their lowest over an audience full of vintage Joy Division T-shirts and Fred Perry polo shirts, you could be forgiven for thinking you'd stepped into a Haçienda-themed club night.
From the moment Peter Hook walks onstage, he exudes a warmth and connective energy with the crowd that is both engaging and uplifting. As we are treated to beautifully arranged versions of Joy Division tracks, including Colony and Day of the Lords, Hook's expression is one of a performer truly in his element. Having an extra bassist in tow allows him time to move around the stage, conducting the audience with his free hand as the band slip into Control, ending this section of the evening on a nostalgic high.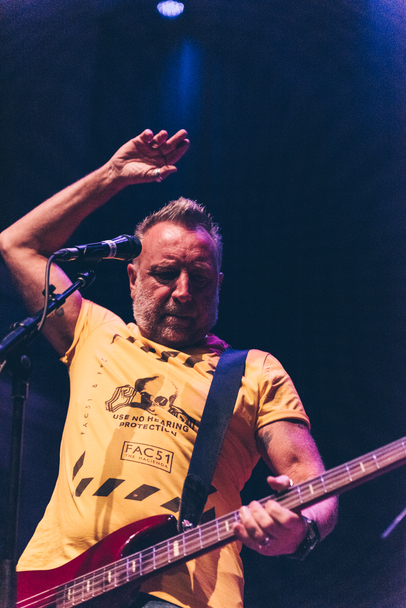 Image: Peter Hook and the Light by Kate Johnston
After a short interval, the band reappear ready for the second half; a complete run through of New Order's 1989 album Technique. A few of the tracks, especially the singles Fine Time and Round and Round, move the audience to enthusiastically get involved. However, as we get further into the lesser-known songs, and especially when we come to the final part of the evening, a full run through of New Order's 1993 album Republic, their energy is starting to wane. Aside from the odd quip, Hook remains fairly restrained between songs, preferring to dive right into the next track than address the crowd. What Hook lacks in chat, however, he more than makes up for in stage presence, smiling, pointing and singing at various audience members.
The encore, when it comes, is met with great enthusiasm. As the unmistakable beat of Blue Monday pulses through the crowd, the dancefloor finally fills up and even the sleepiest of audience members become enthused. The evening ends with the beloved classic Love Will Tear Us Apart, which garners the biggest singalong of the night and makes us glad we stayed to witness this post punk pioneer pay tribute to his absent friend.