Parklife 2017: The Review
Empty NOS canisters ping as they hit the tarmac like empty shells. Bury Old Road is brimming with young expectant festival-goers clad in glitter, sportswear and not much else. A congregation of the impractical and intoxicated, the embers of bye-gone danger still smoulder their way across the morning air, emanating from the tragedy of what happened just weeks ago, not so far away in the city centre. But here is where 80,000-plus youths flock without fear. They may be fucked, but they are the future and they are 100% up for it. This is Parklife 2017. 
After spending an hour trying to get into the festival (no-one seemed to know where the right entrances were) we head over to the Temple stage, which today boasts a huge line-up of grime's brightest stars. First up is President T, but as always we're left wondering – how does he get by in life? With his purposefully awkward off-beat flow (we're not sure he ever hears the beat, to be honest), he delivers a fairly below-par set. When compared with Stefflon Don, it's clear who the real talent is.
Don's dancehall-inflected rap proves that she can spit hard, and her live rendition of 16 Shots (dedicated to everyone's mother) is a standout number. Her performance unites an enclave of young women at the front, whose cheers rise above the silent surrounding men. Her powerful presence and body-positive presentation reminds me who really runs this festival, and it is indeed the gyal'dem.
Invasive clouds of skunk begin to passively pollute the air, dry rotting spliffs that smell like burnt kebab as we watch emcee P Money, who is on point and commands an impressive set filled with bangers like Gunfingers – no wonder Wiley named a song after him. The high is maintained with the chaotic rabble of Levelz and a DJ set from Preditah. At this point we've probably heard Rhythm N Gash and Pow about 3 times each, but grime is a rave culture built upon riddims, so the reloads are most welcome and the two finger skanks are abundant.
The mandem flex, mirroring the machismo and confidence of J Hus, one of UK rap's most promising new artists. Unfortunately, just as suspected, most of these boys aren't really as hard as they put out to be – the 22 year-old rapper delivers a reasonably lacklustre performance, relying too heavily on vocal backing tracks to bolster his sound. Putting the paradoxical displays of masculinity produced by the inherent contradictions of late capitalism aside, Hus possesses the means of tight production and memorable tunes, as summer anthem Bouff Daddy has the crowd lit.
We dodge the horrendously dull indie clanging from the main stage, ducking and diving past one puking child only to run into another. A girl asks me if we have any acid, and is honestly dumbfounded when we say we don't. Another clocks The Skinny wearing a trench coat (unlike everyone else, we're practically dressed for the rain) and asks if your correspondent is a "black hippy style of person". We respond: "No, this is just how I dress", to which she appears as much confused as elated at the idea. It's good to remember that most people here are still experimenting and creating the person they want to eventually become – Heaton Park is their petri dish.
We finish our grime day with a bit of the bums and boobs-loving AJ Tracey before heading to Anderson .Paak, who drops an absolutely stunning performance. His whole persona is magical and he has the talent to match his glowing cheeky smile. Despite the harsh, bass-deficient sound from the tent the Californian star tears through funky numbers like Come Down and The Waters, jumping on drum duties, pounding the skins while singing (just in case you thought he wasn't talented enough already). We want to leave on that high, suffering from grime atrophy, so The Skinny heads home. Day one done.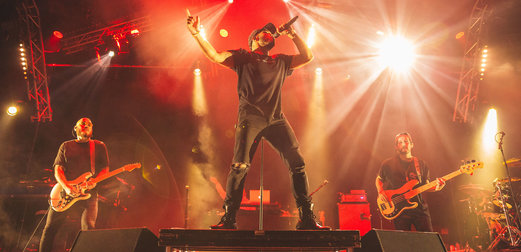 Anderson .Paak & the Free Nationals (picture: Jenna Foxton / Fanatic)
On my way in on the tram a young lad reads out an incomprehensible text from a friend. "She's fucked already! What a ket head." It's 12.30pm, Sunday afternoon.
Through security we get sniffed up by a friendly dog as we ponder what gynaecological procedures we may have had to endure if we had different genitalia; with security this tight (though perhaps necessary) it's only expected that punters try more intrusive ways of sneaking their gear in. We're down early to catch Nadia Rose – she's 15 minutes late, but perhaps she can be forgiven, seeing as it's her birthday. Her hit Squod sounds great, and she encapsulates the undercurrent of positive young female empowerment that permeates the crowd at this festival. Like we said earlier, hold tight the gyal'dem!
Nao, the absolute queen, rocks the main stage with her distinctively wonky funk. The sun finally beams down on us during Girlfriend and paints a smile on everyone's faces. We watch Goldie from the photo pit, as revellers in the front row egg on security to skank, cheering in jubilation when they finally succumb to the taunts. Danny Brown has wall-to-wall bangers, ripping through his triple threat of albums; XXX, Old and Atrocity Exhibition. His persona evokes an aggressive energy from the crowd as his nasal quacking switches to fearsome barks; sex, drugs and violence has Parklife popping off. An inflated condom breezes past the stage – quite fitting really.
A quick pit stop and we're reminded of my male privilege, as women nervously peer into the VIP urinals weighing up whether it's worth risking their dignity just to cop a much-needed piss; makes you wonder who decides on the ratio of female designated cubicles to male ones – probably not a woman, we'd guess. We catch a bit of Wiley who jumps straight in with all of his Ibiza hits (possibly to get them out of the way) before complaining that he's losing his voice and then dropping some Godfather material, which perks up our attention more so. He's old enough to be a father to most of these kids, which makes this large crowd paying their respects all the more impressive. 
Despite the thoughts of everyone who stops to compliment your writer on his dreadlocks, we are not here to see Damian Marley. We're here to see Run The Jewels. The two rap titans come through with a solid set of hits from their self-titled trilogy, and even bring on Def Jux rapper Mr. Lif for a guest verse on Hey Kids (Bumaye). We're half expecting Danny Brown to make an appearance seeing as he's here, but fair enough (it'd be a surprise if anyone bar us knew who Lif was). RTJ's message of solidarity in the face of worldwide political uncertainty, tyranny and terror is very much welcome here.
The Sounds of the Near Future tent is rammed in anticipation of one Michael Omari aka Stormzy. Hands down one of the country's biggest stars, mentionable in the same breathe as Adele and Ed Sheeran, we've never witnessed a crowd quite like this. Throughout the entire set the whole tent from front to back doesn't stop moving – gargantuan mosh pits erupt while,  everyone has their phone out filming. Two flares appear out of nowhere in the middle of the crowd – it's absolute mayhem, at some points the rap-a-longs and screams are louder than the music itself. Yet again it's the gyal'dem who know every single word. We can't stop smiling, and yeah, to be fair we did let out a tear of joy when big Mike finished his set with Shut Up. What an event.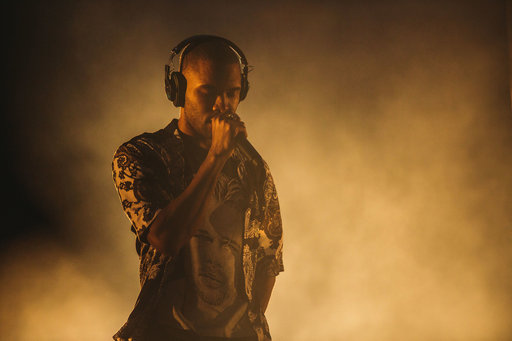 Frank Ocean (picture: Olivia Williams/ Fanatic)
So finally we come to – for want of a less-convoluted phrase – the ocean-sized elephant in the field. Yep, it's Frank 'will he, won't he?' Ocean. A newly-constructed runway has appeared in front of the main stage and the screens are donned with ominous fuschia-lit metadata. Will Frank be appearing via computer hologram? Has he crashed? Nope. He's here (albeit 45 minutes late).
Ocean's entrance is strikingly surreal, like seeing a mythical creature emerge from its cave for the first time. VHS cameras document him from all angles on the big screen, fast cuts adding to the disorientating moment. Though it soon becomes apparent that maybe it's Frank who's disorientated, slipping a backing CD into a module next to him on stage and hesitantly beginning Solo, only to restart it 3 times because he's not in sync with the music. It's either the sign of a complete diva, or, more likely, a perfectionist wanting to do right by his audience.
Yet again on second song Chanel he replays the song because the first attempt was just not good enough. He apologises and states that his flight got in late. It's like watching someone through a two-way mirror as they practice in their bedroom. It's difficult to handle – masses of people are walking away shouting "This is shit!" – which doesn't help to lift the stale atmosphere. The disappointment is too much to bear; we feel like crying, so we leave.
Later on we hear counter to our experience, that Ocean was in fact "amazing", which just goes to show the subjective nature of music. But maybe for those right at the front that's what it was, an amazingly tentative and intimate honest performance by one of the world's most enigmatic superstars. Or maybe it was a man losing his footing on the perilously high pedestal his fans and the media have propped him up on. Our Frank is Schrödinger's artist; simultaneously as torturous and tragic as he is Godly and supreme.