Ocean Wisdom @ SWG3, Glasgow, 26 Nov
Making emceeing look as effortless as breathing, Ocean Wisdom shows he's nearly a pro with this evening's performance
The mood is brimming with chaos tonight, and by the rewind of opening track Chicken Wing, a good half of most pints have soaked the crowd. With an album release this year boasting features from Dizzee Rascal, Ghetts, Akala, Fatboy Slim and Freddie Gibbs, it isn't a surprise to see how excited Glasgow's rap fans are for Ocean Wisdom.
In the early stages of the show, he ticks off some big hitters from his 2019 record Big Talk Vol. 1: 4AM, FATBOY and HOOTIE HOO. Famed for his incredible rap speed, tonight Wisdom shows just how easy he can make it look; moments of a capella show off his self-proclaimed 'skippy flows'. Seeing someone rap that fast is dazzling. Although, there are occasional moments where this veers into gimmick land with seemingly indecipherable verses for the sake of it.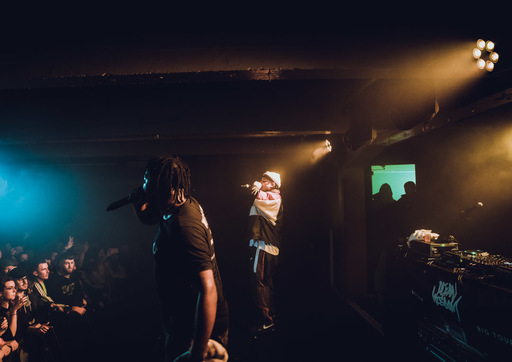 Wisdom spends his set conducting moshes, rewinding tracks, casually chatting with the adoring crowd and showing his impressive lyricism. Other hits include Ting Dun (feat. Method Man) and LOWRIDER (feat. Ghetts). Effortlessy bouncing back and forth between his supporting MC, the dynamic and chemistry between the two is fun to watch.
By the climax of the show, SWG3's Warehouse feels like a rave. With an emphasis on energy from the outset, it isn't long before the crowd surfing, moshing and general hysteria peaks. When Revvin', one of the biggest UK rap hits from last year, is finally played the room goes into overdrive, and Wisdom leaves the stage, concluding a truly impressive gig.