Neu! Reekie! @ Edinburgh Park, EIF, 12 Aug
With performances from Edwyn Collins, Darren McGarvey, Victoria McNulty and more, the Neu! Reekie! crowd are determined to have a good time
Tonight's Edinburgh International Festival venue is a curious one. Nestled alongside the headquarters of the city's faceless corporate elite, a large white marquee looks more akin to something you'd see at a big wedding than T in the Park's grubby Slam tent. The nature of organising such a major event with entry and distancing requirements changing all the time means that tonight is an all-seated affair, and so well spread-out that a tent that would ordinarily hold thousands is reduced to just a small fraction of that. With drinks ordered by QR code and ferried to your seat, it's more genteel (and cold) than your typical rock crowd but nevertheless tonight's audience seems determined to have a good time.
If the venue resembles a wedding marquee then that probably makes Neu! Reekie!'s Michael Pedersen and Kevin Williamson our twin Masters of Ceremonies. Over the past decade they've established themselves at the beating heart of Scotland's cultural scene and tonight's event attempts to showcase a broad range of contemporary poetry, visuals and music.
After our hosts have showcased a piece of their own work each, it's over to Victoria McNulty for a series of short but evocative poems that casts Eve out of Eden and into Calton and transport the characters of the Ulster cycle into a scheme in Glasgow.
Darren McGarvey has come a long way from basement venue battle rapping. He's now an acclaimed TV presenter, newspaper columnist and Orwell Prize-winning author but he's still angry about the state of the world. His new material touches on ageing, his own rise into the middle class and even manages to insert some nuance into the debate over cancel culture. It helps that even as he heads for household name status, he's still funny as fuck.
Another poem, by Hollie McNish, is accompanied by a short film from GSA students that pays off with a great dedication to her grandad, "a man who left the room whenever a sanitary towel advert came on the tele."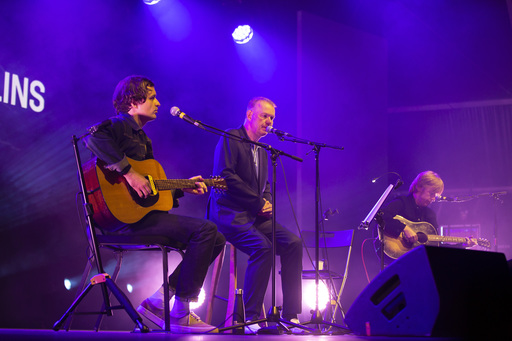 Image: Edwyn Collins, Neu! Reekie!, EIF, 12 Aug by Jess Shurte
Finally it's over to our headliner, Edwyn Collins. Accompanied by a pair of guitarists, the ex-Orange Juice singer delves into the back catalogue that established him as the godfather of the Scottish indie music scene. Opening with Falling and Laughing, the debut single from his former band, it's a winning set, urged on by an audience desperate to see live music once again.
After a 2005 brain haemorrhage which nearly killed him, Collins has been unable to play guitar but his twin accompanists deliver sensitive arrangements that leave space for his characterful croon. Hope and Despair becomes a Dylan-esque rover's tale, while Leviathan, inspired by a trip north to Caithness, manages to be both peaceful and apocalyptic.
Grinning as the audience stomp the boards, he fires into Orange Juice's iconic Rip It Up, before a brief blip as Don't Shilly Shally has to be restarted. Ending on indie-pop classic A Girl Like You, he waves his walking stick in the air, says a brief "Goodnight children" and departs briefly, only to return for the Buddy Holly-like strum of Blue Boy as the crowd sing along. It's warm, imperfect, human – and it's so good to have live music back.
---
Edinburgh International Festival takes place at various locations around the city until Sunday 29 Aug

eif.co.uk