Mandy, Indiana @ The Hug & Pint, Glasgow, 28 Oct
Thanks to Manchester outfit Mandy, Indiana, tonight, The Hug & Pint basement rings out to the sound of synths and guitars being tortured into new and unusual shapes
Between punk's anti-everything ejaculations and new wave's chrome-plated pop songs, a screed of bands – many of them hailing from the art schools of Northern England – inhaled French philosophers and spewed forth a series of records that aspired to not just rewrite the rules of pop music but offer a design for life too. Bands like Magazine, Scritti Politti, The Durutti Column and the like ultimately lost the battle for the British pop charts to the kitschy New Romantics and the fresh waves of R'n'B-infused pop coming from America, but almost four decades on, a quartet of youngsters calling themselves Mandy, Indiana have come together in Manchester to pick up where those bands left off. 
Before our headliners take to the stage, however, there's a short but undeniably energetic set from fellow Mancunians SLAP RASH. Consisting of Huw Lloyd on bass and synthesizer and his sister Amelia Lloyd on vocals and drums, they're a tight duo, with a distinctive look and some surprisingly catchy vocal melodies over the wall-shaking bass. Urging the audience to "Buy a T-shirt so we can buy food", they may still be on the lower rungs of their musical career but there's enough here to keep an eye on.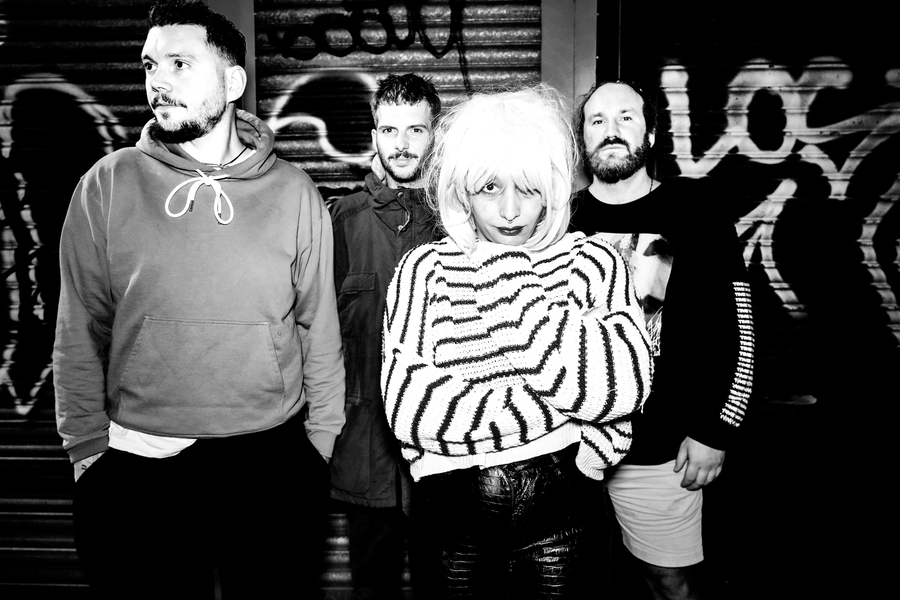 Image: Mandy, Indiana @ The Hug & Pint, Glasgow, 28 Oct by Christopher Hogge

Taking to a stage wreathed in darkness, Mandy, Indiana immediately make a sonic impact; they're ear-achingly loud, pushing their industrial sounding songs to immense volumes. Vocalist and lyricist Valentine Caulfield, guitarist and producer Scott Fair, synth player Simon Catling, and drummer Alex Macdougall may only have one record to their name but from brutal metallic shards of guitar on their opener to the queasy acid house come downs of the final song, it's clear that they're not a group who will rest on their laurels. 
'J'suis fatiguée', Caulfield sings on Pinking Shears, as a beat like a microphone being swirled in a bucket revs into life. For 45 minutes The Hug & Pint rings out to the sound of synths and guitars being tortured into new and unusual shapes, while Caulfield – lit in red and stained with ghostly face paint – sways and moans.
One track which seems to take the form of a jittery and pleading apology, sounds like helicopter gunships rolling over the horizon, while elsewhere the singer throws up rave hands to a processed riff that sounds like the sighing of a bellows. "Thank God for Scottish whisky," she declares in a rare moment back on earth. Departing abruptly with no encore, it's back to the road for the young band. Perhaps not a design for life yet, but certainly a road map to somewhere new and intriguing.