Little Simz @ O2 Academy, Glasgow, 28 Nov
A joyous party and a bold statement, Little Simz puts in a masterful performance in Glasgow
It's a sold-out Sunday night at Glasgow's O2 Academy. Over two thousand people pile in from the freezing pavements outside – barely-contained anticipation is in the air. 'SIMBI' hangs across the stage backdrop in enormous letters. Soon enough the band arrive, dressed in identical grey tracksuits. There's a boldness to the simplicity. 
Little Simz talks a lot about her energy: protecting it, harnessing it. As Introvert's epic marching band drums start up, and she bounds on stage, the audience realise why. This is rap performance taken up a notch: a call to arms. Blinding white lights, military drumming, and Simz's dazzling flow is definitely enough to raise the hairs on the back of more than a few necks. The audience erupt: 'I'm a black woman, and I'm a proud one', Simz and her crowd declare together.
Dressed in a black tracksuit, with dark shades and a bandana, there's something of an old school Lauryn Hill energy about the rapper tonight. Simz and the band are seamless, transitioning from Introvert to Two Worlds Apart without a breath. Here, the juxtaposition between softness and hype is demonstrated for the first time. This contrast is a theme of the show, as Simz moves effortlessly between her smooth London flows and confrontational, earthy tunes.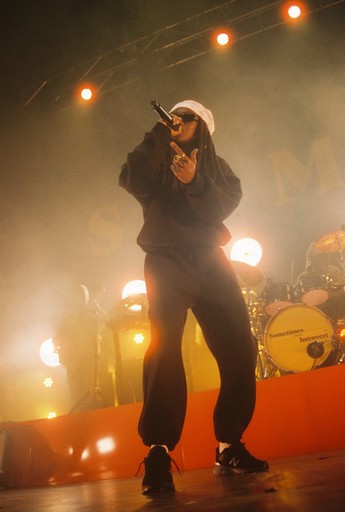 Little Simz by Marilena Vlachopoulou
Older tracks – Wings being a highlight – take her devoted fans on a nostalgia trip. On GREY Area's hit single Boss, the crowd screams the chorus proudly back at Simz: 'I'm a boss in a fucking dress'. It's hard not to think of what all this means for women, for the male world of rap, for boys and their view of girls. And those thoughts are emotional. With both her recent album, Sometimes I Might Be Introvert, and GREY Area, Simz explores her womanhood through a stereotypically male medium. The results are fascinating.
"I love you Glasgow," she announces. Simz is at home on stage – dancing alone and with her band, singing, and playing more than one instrument. Something of a magnum opus, this tour is her showing the world she's bringing more to the table than rap alone. She's a lyricist, a spoken word artist, a creative, a performer. 
The show goes from hit to hit. Pirate radio-esque banger 101 FM takes the audience back to Simz's 'top of the flats', 'Mortal Kombat' roots. Later, Simz transports the audience to West Africa, with a phenomenal percussive breakdown and extended version of Fear No Man. It's time for infectious side-step shuffling, and some call and response, as the night's energy jumps up to euphoric levels.
Little Q Pt. 2 is a singalong, hands in the air moment. I Love You, I Hate You makes the place explode again – of course. And with extended encores, Woman finally drops to the singing, beaming crowd. This is joyous, and Simz is a master tonight. It's a party and it's a statement. North London's Simbi is going global, and no one is going to stop her.