Laura Mvula @ Edinburgh Park, EIF, 29 Aug
Laura Mvula's first Scottish performance since her deep dive into 80s electro is an evening of neon-splashed joy
Even if July's Pink Noise had passed you by, the new direction of Laura Mvula's music is immediately clear from the Collins-baiting drum intro and Mvula's pink keytar. This is pure 80s fetishism, occasionally cloying and a little saccharine (Magical, What Matters), but mostly earnest and beautifully-formed (Safe Passage, Church Girl, Before the Dawn).
There isn't much time for anything from her previous two albums, though the title track from Sing to the Moon is an early highlight that melds surprisingly well with the neon tones (Green Garden is later performed as a "remix"). Mvula's strong upper range is really the main draw here and it's a wonder to behold in full force, though her choice to use backing tracks on some choruses is a little perplexing (it gives a bit of an improv edge as she ad-libs, but ultimately robs some of the power from the songs).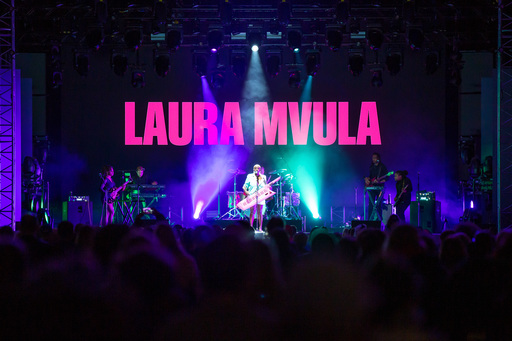 Image: Laura Mvula @ Edinburgh Park, EIF, 29 Aug by Jess Shurte
Mvula begins focused and determined, but doesn't quite make it 30 minutes before her resolve breaks and her moody "Miles Davis-style" self-imposed silence gives way to her joyous glee as she recognises someone from the audience, discusses writing love songs (but not finding love) and gives a few exhortations to get everyone grooving (while remaining socially distanced). Remedy is the song that really succeeds on this front, sounding like the best of latter-day La Roux and successfully warming up the chilly Edinburgh Park crowd.
Another odd choice is closing the show with a stripped-back, faux-orchestral version of Church Girl (the regular version had already been played). It wonderfully highlights Mvula's fantastic voice, but seems a little strange when so many great songs from the first two albums could be played. The soulful sound of Mvula's first two albums is sidelined for tonight, though there's no doubt the new material hasn't been made with the same care and attention to detail. Overall, as long as you're all in with the 80s electro-pastiche, there's a lot to love here, and its bombast is well-suited to a draughty outdoor dome.