Kate Tempest @ Leith Theatre, Edinburgh, 9 Aug
Kate Tempest stuns the Edinburgh International Festival audience at the Leith Theatre with an unforgettable performance of her latest material
'What we gonna do to wake up?'
From the moment she steps on stage for Tunnel Vision, Kate Tempest interrogates Leith Theatre's Edinburgh International Festival audience and it's clear she isn't here to mess around. Climate change, austerity, disease, and existence in general are melded into the subject matter. Beginning with tracks from 2016's Let Them Eat Chaos, the atmosphere is blistering as Tempest races through line after line of political punches.
The stage itself is set perfectly, with the cut-out red moon behind Tempest taking on its meaning as she turns from the old to the new, and performs her latest album The Book of Traps and Lessons in full ('I came to under a red moon'). The lights perform as backing dancers, moving with Tempest as seamlessly as her body moves with her words.
Stripped back both lyrically and musically, with only Clare Uchima backing her on keys and synth, Tempest's new material sees her anger exposed in a different key. In Brown Eyed Man, ethereal piano bends around her voice as Tempest tries to find empathy in the context of evil. 'While they're killing for money / And they're crippling countries / And they're doing it all they're just doing it all / Beneath a flag saying / Freedom', she cries out. The key turns major, the music softens: 'You're lying if you think / That my pain isn't your pain / 'Cause when I'm hit you flinch'.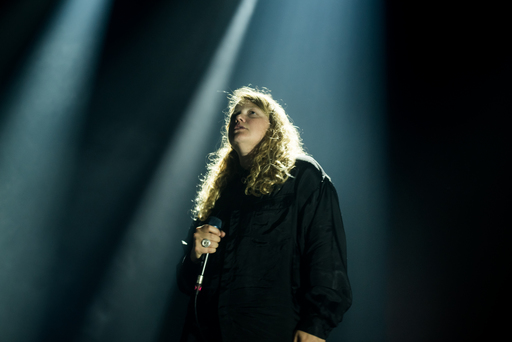 Image: Kate Tempest at Leith Theatre, Edinburgh, 9 Aug by Kat Gollock
The climax of the performance feels like it happens in the middle. As the music drops out for All Humans Too Late, Tempest has the room in the palm of her hand, declaring that we should be preparing for death, that we know it's coming. And despite the extremity of the message, she somehow removes any uncertainty: 'Behind the noise we can feel it'.
When the music returns, it's like a punch in the guts, a big 'but' in the message. It's like Tempest has somehow found a trace of hope; like by identifying and examining the problem in such detail, she somehow steps closer to the solution. 'We are smarter than they think we are… / So, hold your own', she implores to her audience next on Hold Your Own.
This sentiment is echoed in her final track, People's Faces, a track that seems to lift the heart of the audience into its mouth. All pretense disregarded, the lights turn on the audience as Tempest '[faces] off with the physical', and exclaims 'There is so much peace to be found in people's faces'. The sound that the audience makes when she exists the stage exposes the performance for what it is: simultaneously desperate and hopeful, and absolutely of the moment.