Kano @ Old Fruitmarket, Glasgow, 2 Oct
On the first night of his UK tour in support of his latest album, Kano continues to show why he's such a vital voice in UK music
Kano has always remained somewhat out of the limelight in contrast to his peers. Coming up through the birth of the grime scene at the same time as the likes of Wiley, Skepta and Dizzee Rascal, he never seemed to be as focused on commercial success, instead opting for a more considered approach to making and releasing music.
But while many have been and gone, Kano has remained a constant and vital voice in the UK music; his insightful social commentary and clever wordplay permeating much of his work. His latest and sixth album, Hoodies All Summer, continues to incorporate these elements, but still shows that he's never shy of throwing in a few bangers either.
While the influence of Kano's Jamaican heritage has always played a large part in his work, it feels much more prominent on Hoodies All Summer. This is demonstrated in his collaborations with UK Afrobeat artist Kojo Funds (Pan-Fried) and dancehall legend Popcaan (Can't Hold We Down), which provide highlights both on record and in his live set, despite neither guest being physically present at tonight's show.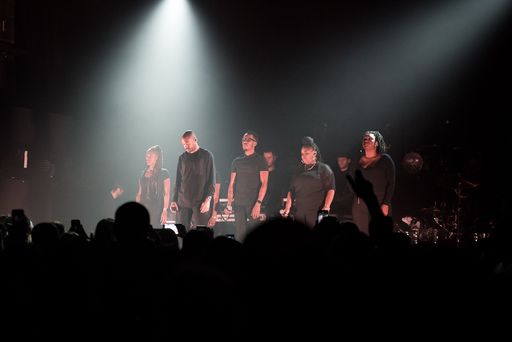 Image: Kano at The Old Fruitmarket, Glasgow by Allan Lewis
He begins with the same opening trio as it plays out on the record – Free Years Later, Good Youtes Walk Amongst Evil and Trouble – and his impassioned, flawless delivery gets things off to a promising start. At the midway point of Trouble, he's joined onstage by a five-piece choir, who return at various points throughout the show on the likes of album standout Got My Brandy, Got My Beats and its closer SYM.
There are still plenty of Kano's more grime-leaning tracks strategically spread throughout his set though. From Hoodies All Summer, Class of Deja features guest verses on record from D Double E and Ghetts, harking back to their days together on pirate radio station Deja Vu. The presence of both artists is sadly missed live, however, particularly in the thrilling sparring between Kano and Ghetts on the track's second verse.
Closing with two tracks from 2016's equally brilliant Made in the Manor – 3 Wheel-ups and My Sound – chants of 'Kano' echo through the vast space in The Old Fruitmarket and show that playing the long game has paid off after all.